With so many types of plant based cheese on the shelves, there is the question of what exactly is the vegan cheese made of and which is the best brand of vegan cheese?
Ingredients used are very important when it comes to the outcome of the product. Vegan cheese that melts and separates from itself to create an oily mess is a problem food scientists are faced with.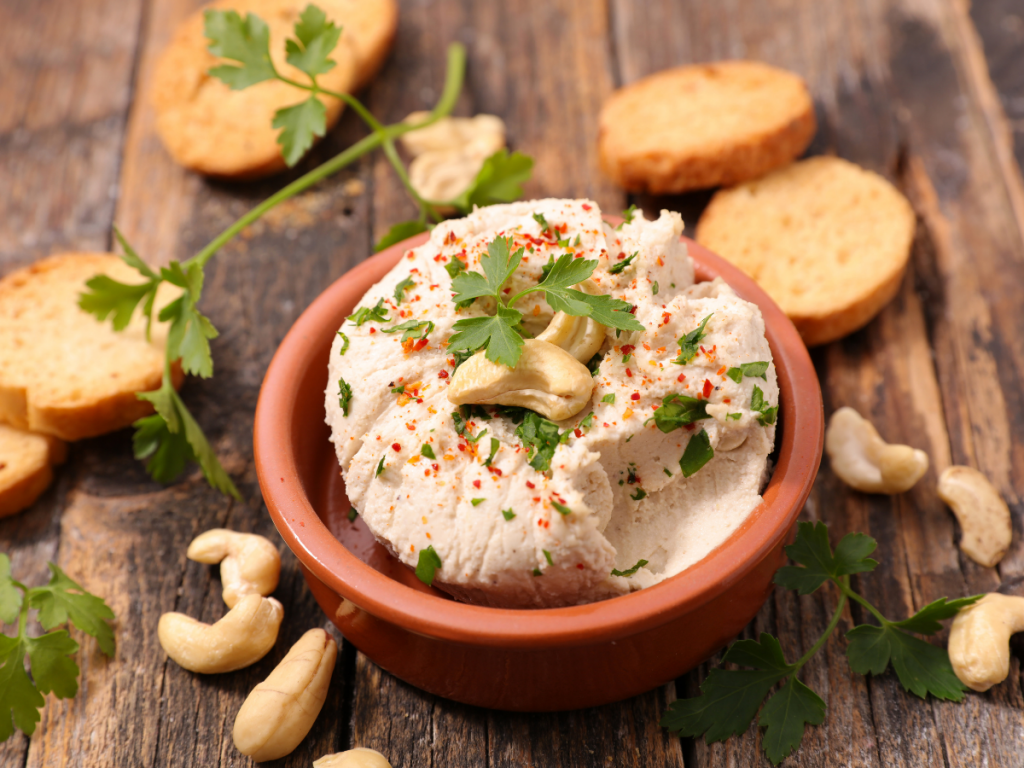 How is Vegan Cheese Made?
The base of most vegan cheeses are usually one or a mixture of coconut oil, seed oil and cashews to name a few. Of course there are a host of other players that are involved with creating a delicious vegan cheese.
Carrageenan, an additive that comes from seaweed, is often a listed ingredient because it is used to create the melty feature of cheese and it also helps with the cheese keeping a solid form before it is heated.
Another substitute for carrageenan is agar agar powder. The powder creates a certain firmness in the cheese; a big problem here is knowing how much to use so the cheese is at the right firmness.
To attempt the stretch of cheese, tapioca flour or starch is used however, similar to agar agar, it is a fine line to creating stretch or a squishy mess.
The most popular ingredient used is nutritional yeast because of the natural cheese-like flavor it has. As an added bonus, nutritional yeast is a good source of protein (1 tablespoon contains approximately 2 grams of protein) and contains B12, a vitamin that helps with metabolism and keeps your nervous system healthy and prevents megaloblastic anemia.
In terms of how vegan cheese is processed, it differs between manufactures.
Some recipes call for all the ingredients to be mixed in one pot before pouring it over molds/containers. Others take note from traditional cheese making by separating the oils from the proteins and then adding in other ingredients to create the perfect cheesy consistency.
After the ingredients are all added in, there is the need for the cheese to sit so that the bacteria can slowly break down.
Now that we know what the cheese is made of and how it is made of, which ones should you try first?
Here is a list of 5 brands to take a look at to determine which one is the best brand of vegan cheese.
Brand #1: Daiya
Daiya has a little bit of something for everyone; they carry cheeze slices, cheeze sauce, cream cheeze and cheeze blocks to name a few items.
One of their more popular items includes their shredded cheeze with the main ingredients being coconut oil and tapioca starch.
The melting point of Daiya shredded cheeze does not require very high heat, however it is noticeable that the cheeze does keep its shape when it is melted. The melting texture and taste is very nice and reminiscent of what traditional cheese is similar to, although less is more in this case; adding too much cheeze to your pizza or toast can make it rather gooey and salty. A small sprinkling on Black Bean & Sweet Potato Tostados is a great addition!
Comparing the shredded cheeze with their cheeze sauce, their sauce is absolutely delicious. It tastes and feels exactly like traditional mac and cheese and in no way do you feel as if you are missing anything! I had friends who were not vegan try this and they were shocked when I gleefully told them it was plant based.
Daiya Vegan Cheese Rating:
Overall, specifically for Daiya Mozzarella Style Cutting Board Shreds, the rating would be 8/10 but their cheeze sauce is absolutely 10/10. This brand definitely tops my personal list for the overall best brand of vegan cheese!
Brand #2: Violife
Violife has many different products as well including block, wedge, spread, slices and shredded cheese. Coconut oil and potato starch are used as their main ingredients.
Similar again to Daiya, the cheese from Violife keeps it shape as it melts, however I also noticed that it had a harder time melting in my oven. It more or less dried up became almost like cheese crisps.
It was not bad tasting by any means, it simply was not what I had expected. I have heard from others who eat vegan cheese that melting it in a pan on a stove brings better results, but I have not tried it myself.
The taste of the cheese was very similar to what I remember having with traditional cheddar cheese. I enjoyed it very much with my sandwich – it did not have a crazy stretch to it but the taste made up for that.
There are few brands I can name that have different variations of cheddar that actually tastes different from their regular line and I appreciate the effort!
Violife Vegan Cheese Rating:
I would rate their Mozzarella Style Shreds a 6.5/10 for taste and texture but give their Mature Cheddar Style Slices an 8/10. If they could figure out how to get the cheese shreds to keep from crisping in the oven it would be great!
Brand #3: Follow Your Heart
Follow Your Heart has the usual vegan slices, blocks and shreds and they also carry parmesan and dairy free feta!
Their main ingredients for the shreds are coconut oil, canola oil, and corn and potato starch. While these ingredients are very similar to Violife and Daiya, I have to unfortunately say I did not quite enjoy their Dairy-Free Mozzarella (Finely Shredded) as much as I would have liked to.
It did not bother me that the shreds did not melt because as mentioned above, it seems as if a lot of vegan cheese have the problem with mimicking the same melt as traditional cheese.
What I did not enjoy was what felt like a wet texture that was kind of grainy and slightly sweet. It was rather off putting for myself, however there are a lot of people who have raved about their slice cheese.
On momsmeet.com commenters noted;
We were all very pleasantly surprised and excited about the flavor and texture of Follow your heart slices. The kids really loved it! – Anna M
We are all cheese people' and a lot were skeptical about how it would taste and/or melt but it was so delish, like eating real cheese from milk. We were very happy!!! – Leslie M.
That said, I did give Follow Your Heart another try with their Dairy-Free Parmesan (Shredded) and it was so different from the mozza shreds I had to do a double take to make sure I purchased from the same brand! It had that nice salty kick expected with parmesan and a crumbly texture! It was still a little grainy when I had it just on top of toast but it was not at all near the texture of the mozza shreds.
Follow Your Heart Vegan Cheese Rating:
For my own personal preference I would have to rate the Dairy-Free Mozzarella (Finely Shredded) a 2/10 but the Dairy-Free Parmesan (Shredded) was quite nice and I liked using it when making Brazilian cheese bread so that gets a 7/10.
Brand #4: Miyoko's Creamery 
Their array of products are similar to most of the others on the market but they also have something very special with their soft cheese spreads. In fact this may be the first vegan cheese on the list that has cashews and coconut oil as their main ingredients!
I personally really have a preference for vegan cheese made with nuts because it gets a much softer, creamier taste than just the oil based cheese. Their Double Cream Classic Chive Cashew Milk Cheese is very similar to Boursin and it is so delicious, it is difficult to believe this is strictly plant based.
The texture of the spread is exactly like what you would expect; it is like spreading a little heavier cheese cloud on a bit of toast. It is so creamy and the mouthfeel is absolutely amazing. I've even found that my kids enjoy it with crackers and celery or baby carrots, making it a great vegan lunch idea for kids.
There are others that found this personally tarter than they expected;
Tried this product and liked the texture of the cheese. The flavor was good but I found the cheese was a little bit too sour tasting for my liking – Chandra C.
But others have found that they really like the tang that is reminiscent of cream cheese;
I love having my everything bagel in the morning. I usually slather vegan cream cheese and found it alright. When I switched to Miyoko's Double Cream Chive, I was sold. Very creamy, no horrible after taste. I would definitely recommend this product and plan on using this on my morning bagel – Cheryl B.
Miyoko's Vegan Cheese Rating:
I would rate their Double Cream Classic Chive Cashew Milk Cheese a 10/10!
Brand #5: Field Roast: Chao Creamery
I personally have not tried Chao cheese myself but it is a name that is prevalent in conversations I have had. They use mostly coconut oil as well as modified corn and potato starch but what sets them apart from the competition is their use of fermented Chao tofu in their cheese.
Their unorthodox ingredient has proved to be incredibly effective with mimicking the melt of cheese. The Living Vegan Blog has reported that the Creamy Original Chao Slices melt and stretch like real cheese and tastes like it as well. Some of the other commenters on the site have also noted how pleasantly surprised they were with the product after trying it themselves;
I just went full vegan a week ago, and the thing always holding me back was cheese. I've been known to eat cheese-just cheese-as an actual meal. I saw these at my local grocery store and decided to try them. O.M.G. They taste, feel and melt like cheese. A mild, average cheese, but a cheese nonetheless. As you said above, Mind Blown – Shusho
I recommend this cheese to all my health coaching clients looking to transition off dairy. It's fantastic! I'm hoping they transition into other forms like shredded cheese' too. – Marissa Costonis H.C. 
With more people looking towards a more dairy-free/vegan lifestyle there are more options becoming available.
There are so many other brands that are not mentioned in this article but it does not mean they are not worth trying!
There is absolutely nothing wrong with going out and doing a little bit of experimenting yourself to see which vegan cheese reigns supreme!
Only you can decide for yourself which is best brand of vegan cheese!