So you've decided you want to host a vegan dinner party, that's just great!
What a fresh and fun way to have deliciously healthy food and try some alternative types of cooking with your friends and/or family!
But now you've come to the tedious part: how does one actually go about throwing a vegan dinner party?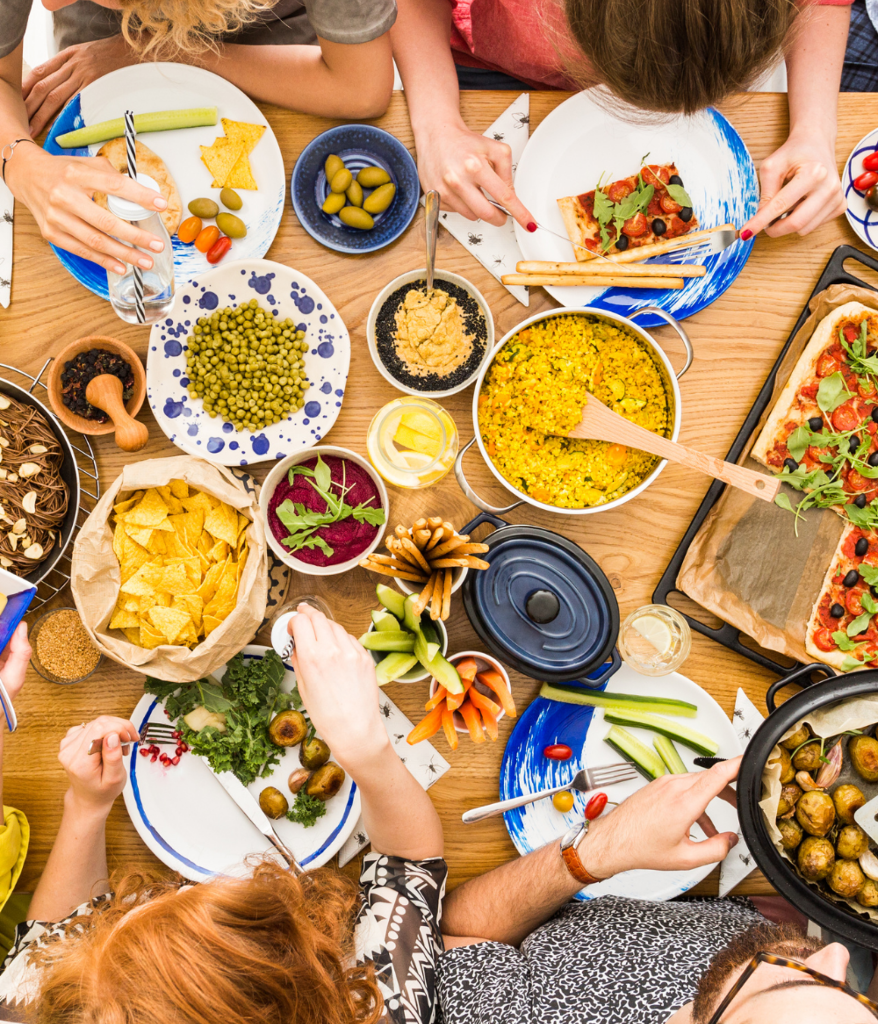 Whether you're a meat eater hosting vegan friends, or a vegan who just needs some advice, hosting a dinner party does not have to be stressful at all.
In this article, we have laid out some simple steps and tips in an effort to help you easily throw an amazing vegan dinner party: 
Preparations:
Preparation is key when hosting a vegan dinner party. Good preparation makes the whole event proceed smoothly and allows the guests to focus on socializing – which is the main purpose of parties.
Decide on a Menu
Deciding what to serve your vegan guests should be the first and most important step. Its important to keep the meals streamlined and simple, or at least focus on being able to make the meals you know you can pull off.
Dinner parties are events where people bond and friendships are made or strengthened, the food can be extravagant if you like but always keep in mind the reason why your hosting a dinner party to begin with. These considerations should be reflected on the menu.
You can also go the extra mile and have dishes made with in-season ingredients. This gives you the opportunity to have organic, affordable, farm-to-table food that adds a heartiness and homey feel to the party.
Worse come to worse, you could always acquire inspirations from the menus of vegan restaurants, online, or in vegan cookbooks.
Get the Quantities Just Right
Unless you're opting for a buffet, self-serving style of dinner party, it's discouraged that you eye-ball the quantities of your cooking. More often than not, this will lead to some serious over preparations and leave you with more food than there are people to eat it.
To minimize spoilages, weigh portions accordingly per guest per course. This can also greatly save you on cost as you'll only be buying the amount of ingredients needed.
Timing is Key
Get a feel of the cook times by doing test-runs and using timers. What you're avoiding by doing this is you being in the middle of cooking when guests arrive that dinner is served late or cooking too much ahead that the food is served cold. 
Also clean as you go in order to save yourself the stress of cleaning spilt sauce or washing a pile of dishes after the party.
Be Aware of Any Allergies
Don't be shy to ask the guests beforehand about any allergies, towards certain foods or otherwise, when still in the preparation stage. Not only will this allow you to tweak you menu accordingly, it will also score you points among your guests for being a considerate and thoughtful host.
Some Menu Ideas:
Deciding on a menu, as stated before, is the first and most important step. Though thousands of dishes exists and selecting the right ones for one vegan dinner party might feel a bit pressuring – it really doesn't have to be.
There is no such thing as the "right" dish, only dishes you feel are delicious enough to share with friends.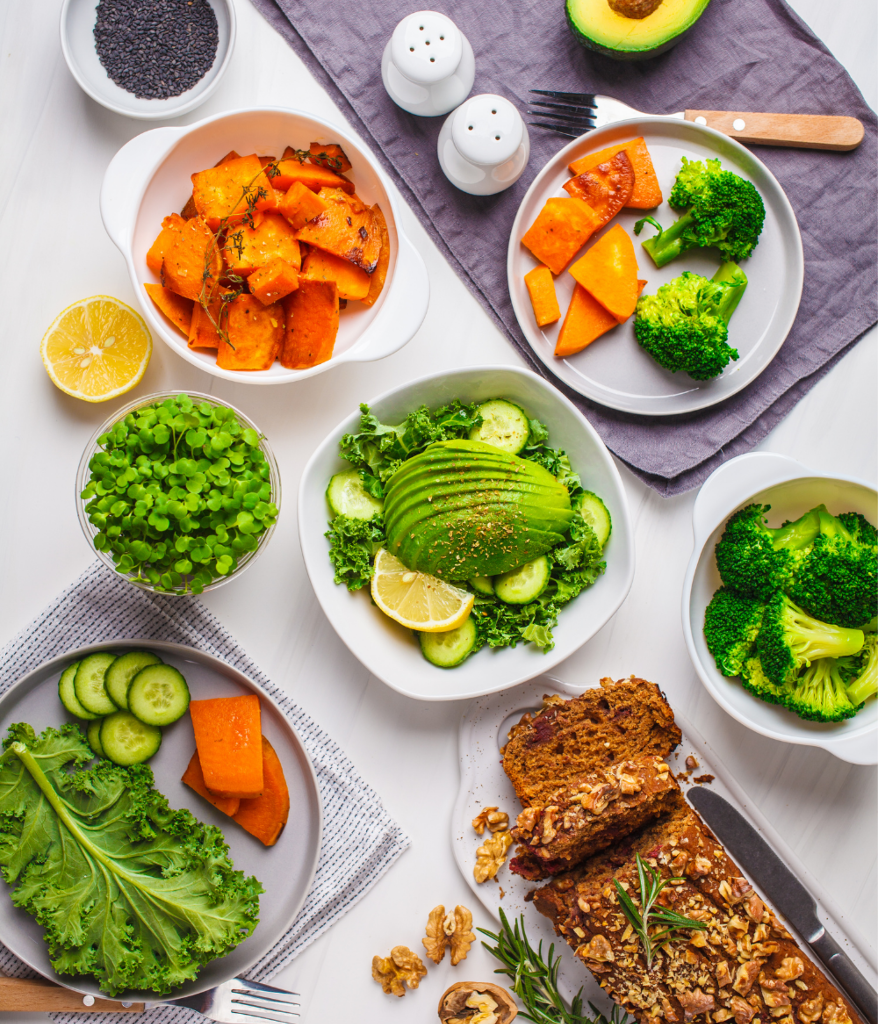 Starters
Chips and dips are an easy but dependable appetizer to serve when guests arrive. Salsa and guacamole are always party favorites but don't be afraid to experiment with lentil or bean dips too. Toasted bread is also a nice alternative if you feel like using something other than chips. If you're feeling especially adventurous, these Vegan Wontons are always a hit!
This is also good time for some cocktails and drinks to set the mood and get people settled.
Salads
Salads can either be served before or with the main dish. Its also a good idea to have as much colors and texture into your salad as possible. Don't be afraid to mix in some fruits, nuts, fried shallots, and a well-selected dressing.
Main Dishes
For main dishes, go for dense and heavy meals. Cauliflower, eggplants, and mushrooms are good ingredients to start with. Dishes like cauliflower steaks, blistered eggplants and/or vegan pasta all with an assortment of spices can serve as fitting main dishes, while there are also enough variations for you to play with in order to give the guests something new.
Desserts
You can either make or buy vegan ice cream for dessert, and pair it with some vegan brownies. Vegan cookies, chocolate moose, and cakes are also a good option so long as they don't contain any dairy, honey, or eggs. Check out this awesome list of 30 vegan dessert recipes for you to try. Serving coffee with either nut or soy milk is a good after meal option too.

Tips to Make Vegans Feel More Comfortable:
Making vegans feel comfortable isn't that hard. All you need to do really is: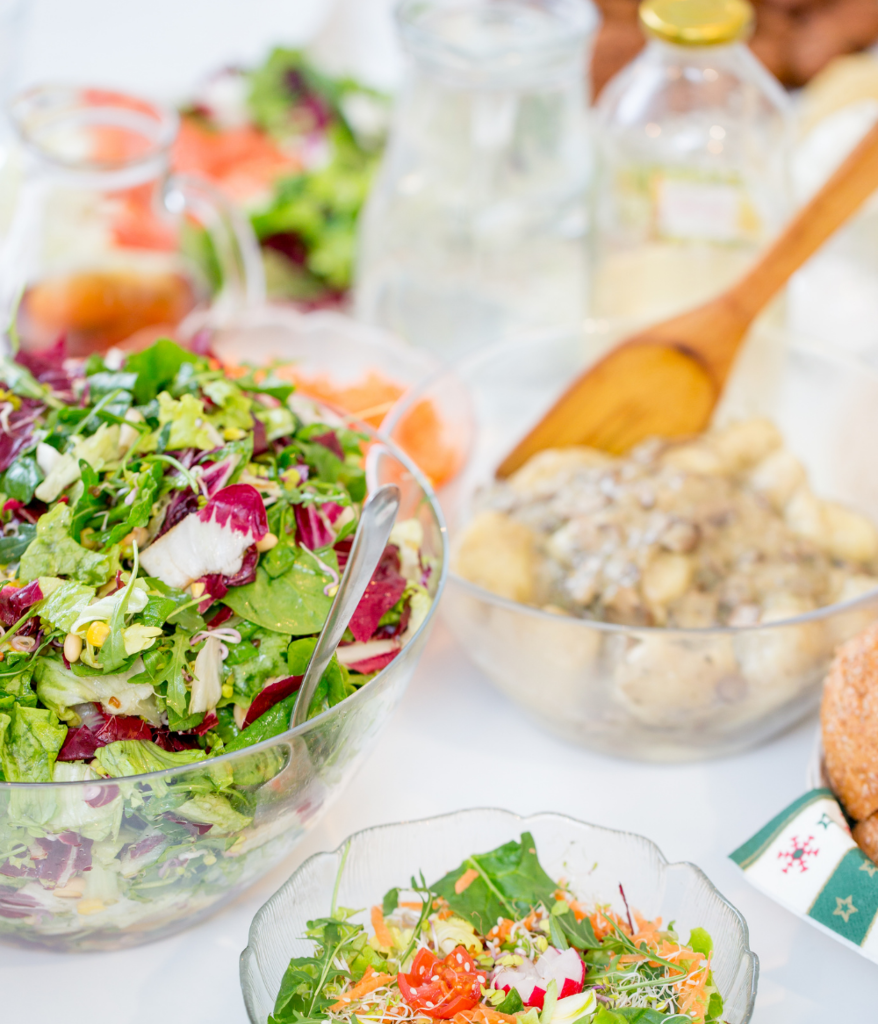 Maybe Make Their Favorite Dish
Don't be shy to ask them what their favorite dish is and try your hand at making it. In all likelihood, the gesture will be greatly appreciated will garner you their praise and thanks.
Refrain from Having Animal Products on Display
Veganism is a life-choice made by people who are conscious of the suffering of animals. Though it isn't a requirement, putting away anything that might have been made using animal products would only be considerate.
Treat them Normally
Try not to tiptoe around them or be scared of making jokes. Veganism is a dietary choice, not something that makes a person any less capable of banter or small talk. 
Tips for Non-Vegan Hosts:
If you're non-vegan but would like to host vegans over for dinner, here are some things to remember:
Read Some Vegan Blogs
These are the most readily available sources on information on what it means to be a vegan you can find. Read up if you're trying to look at the vegan perspective on things or if you're looking for some more handy tips on dos and don'ts when hosting vegans.
Create a Welcoming Atmosphere
Candles, dim bulbs, some flowers and just anything to set a nice and relaxing mood. Guests who are relaxed are more inclined to socialize and get along if they're doing so from a calm and relaxed place.
Understand Why Vegans are Vegans
There are a plethora of books, documentaries, and articles on why vegans have chosen the kind of diet they have. Being in-the-know on what vegans stand for and why will help greatly to make you more conscious on your discourses with them, either on vegan dinner parties or in any other scenario.

Conclusion:
Vegan dinner parties are fun and healthy and need not be cumbersome. Taking to heart some of the things discussed will reduce any stress and pave the way for a wonderful evening with friends. We certainly hope this article was of help. Have a wonderful evening!