Jump to Recipe
Whether you make these as an appetizer, a side dish or a stand-alone meal, one thing is for sure — you will love these Vegan Tofu & Veggie Wontons!
Our whole family has always loved getting Chinese take-out once a month or so. However, since we've switched entirely to a whole food, plant based vegan diet, we've decided that we'll be making our own versions of our favorites at home.
This recipe is slightly healthier than ordinary wontons as the wontons are baked instead of fried. However, if you're up for throwing caution to the wind, you could totally fry them in hot oil or even keep them healthier by baking them up in an air fryer.
How do you make homemade wontons?
I'll be the first to admit that homemade wontons are a bit of a labor of love. They require a slight time commitment and some hands-on work.
But please don't let that keep you from making these! The extra little time is SO worth it. I promise…you won't regret it.
Homemade wontons, at least the way I do it, start with two main components: vegan wonton wrappers and a yummy filling.
For the wrappers, we like Nasoya's vegan variety. There are other brands that offer vegan wonton wrappers, so check what's available in your store. Ordinary packaged wonton wrappers are not vegan (they contain eggs), so make sure you check the ingredient list.
If you want to go all in, or can't find vegan wrappers nearby, you can make your own wrappers. Check out It Doesn't Taste Like Chicken's recipe for homemade vegan wonton wrappers.
Once you have your wrappers and have prepared your vegan tofu and veggie wonton filling, the best and quickest way to assemble your wontons is to work assembly-line style.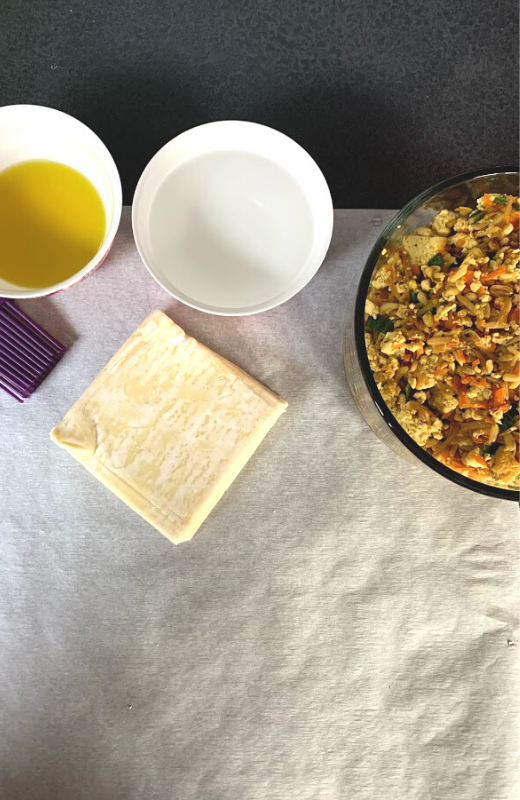 In addition to the wrappers and filling, you'll also need some water. If your diet includes oil, you'll also want a bowl of small oil to brush on the wontons before you bake. I used olive oil for this recipe. A healthy dash of patience won't hurt either. In fact, if you have kids, this is a great time to get them working with you!
I like to work on a waxed paper-covered surface to make sure the wrappers don't stick. Sticking shouldn't be a problem if you assemble quickly, but if you are encountering some issues, you can sprinkle a little flour on your work surface.
To assemble, place a heaping teaspoonful of filling in the center of your wonton wrapper.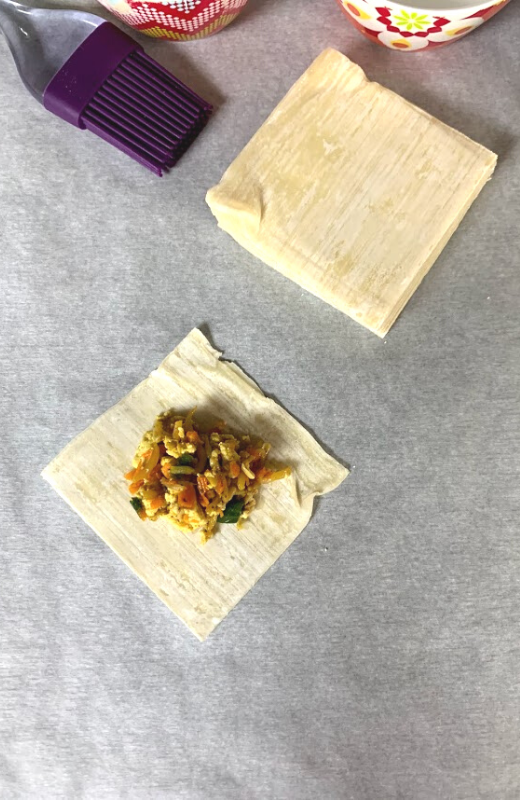 Then dip your finger in water and trace around the edges of the wrapper with your finger. The water is what makes the wrapper stick together, so don't be skimpy with it.
Next, fold one corner over to the opposite corner to create a triangle. Press all along the edges to ensure they are sticking together.
Place the assembled vegan tofu and veggie wontons on a baking sheet lined with parchment paper or aluminum foil. Brush some olive oil on the top side of each wonton.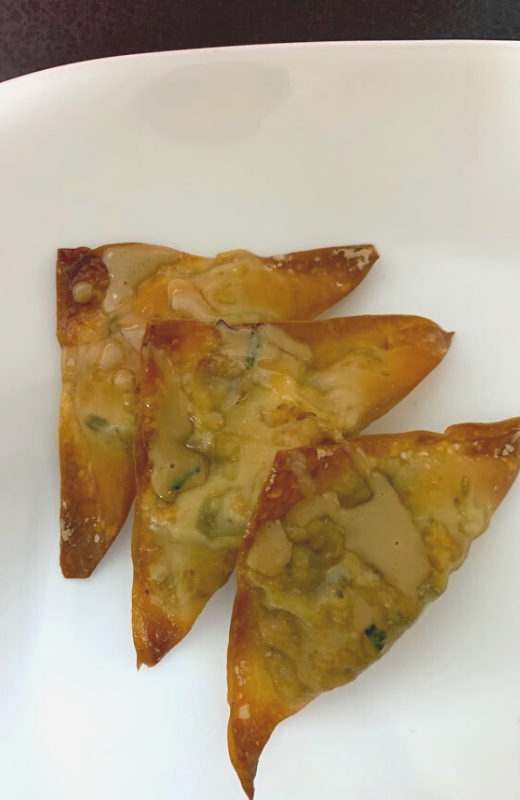 Once the baking sheet is full, place in a 350 degree preheated oven and bake for about 20 minutes, until golden brown and crispy.
I did not flip the wontons during the baking process and both sides still turned out beautifully browned and crispy. However, if you want to ensure even crispiness, you might want to flip them halfway through the bake time.
How to make the vegan tofu and veggie wonton filling
I am in love with the filling that goes in these wontons! It's packed full of flavor, protein and healthy deliciousness.
The filling includes tofu, bean sprouts, carrots, green onions, soy sauce and seasonings.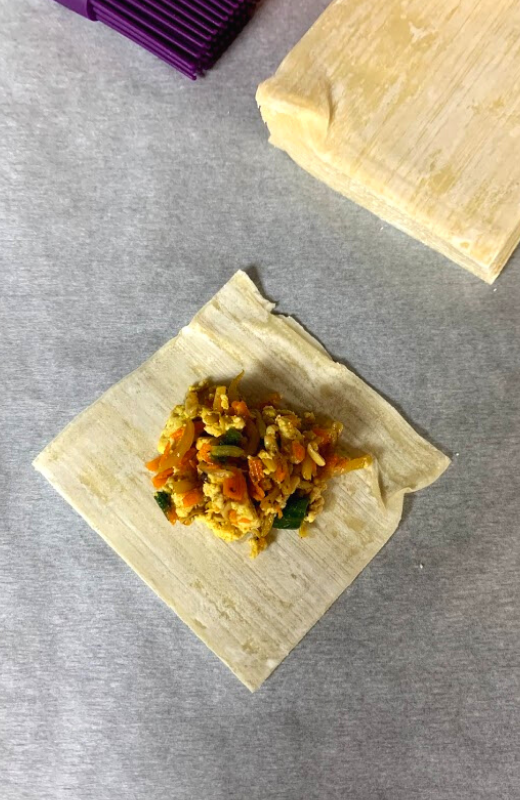 To prepare the filling, you'll crumble and cook a block of extra firm tofu in a small amount of olive oil until slightly golden brown. The cooked tofu should look like scrambled eggs.
Then, you'll add the tofu to a bowl and toss with diced, canned bean sprouts, carrots, green onions, soy sauce, garlic powder, red pepper flakes, and a small dash of ginger.
The filling comes together really easily and it tastes out of this world. I could literally eat it as-is with a fork and be perfectly content. However, putting it inside the wonton wrappers really takes it over the top!
My husband and I don't eat sugar, so I made us a quick dipping sauce with some tahini, water, soy sauce and agave syrup. The kids enjoyed their wontons with sweet and sour sauce and sweet chili sauce.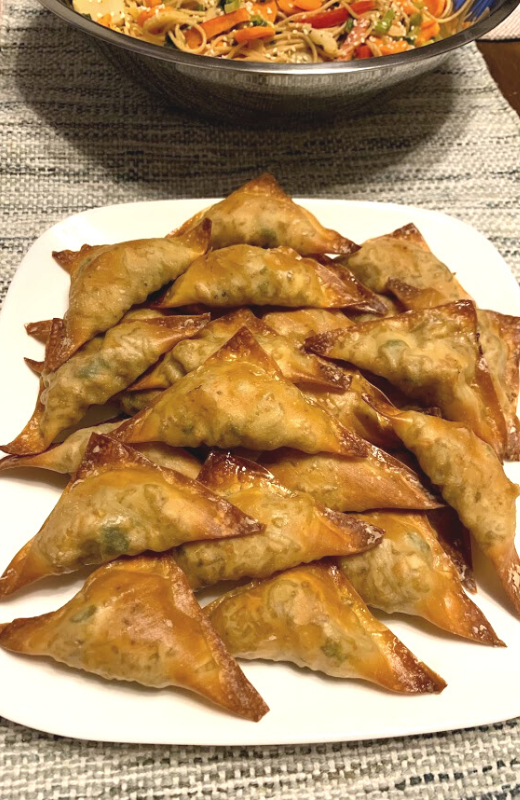 Although they take a little extra commitment and love, I know that you'll love these vegan tofu and veggie wontons. They are:
packed with flavor
a great addition to a homemade Chinese-inspired meal
freezable
healthy(ish)
& delicious!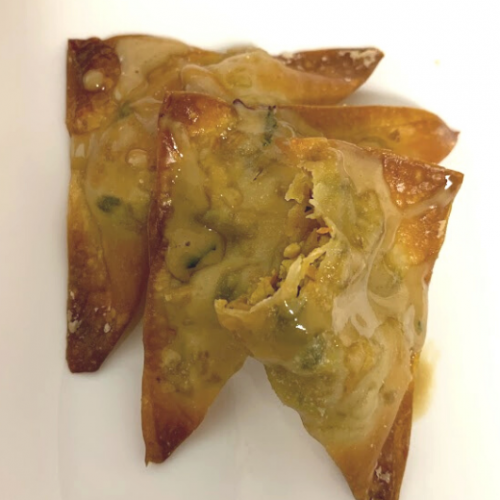 Vegan Tofu & Veggie Wontons
Vegan Tofu & Veggie Wontons are packed with a delicious and flavorful filling that includes tofu, bean sprouts, carrots, green onions and soy sauce and then baked in the oven for a healthier version of your favorite Chinese take-out appetizer.
Ingredients
14

oz

Extra-firm Tofu

pressed for at least 15 minutes

2

tsp

Olive Oil

1/2

tsp

Salt

1/2

tsp

Black Pepper

14

oz

Canned Bean Sprouts

2

Carrots

peeled

1

bunch

Green Onions

2

tbsp

Soy Sauce

1

tsp

Garlic Powder

1/2

tsp

Crushed Red Pepper Flakes

1/4

tsp

Ginger Powder

24

Vegan Wonton Wrappers

1/2

cup

Water

1

tbsp

Olive Oil
Instructions
Heat 2 tsp olive oil in a skillet. Crumble tofu into the skillet and sprinkle with salt and pepper. Cook over medium heat until golden, about 3 to 5 minutes. (Tofu should resemble scrambled eggs when done cooking.

While the tofu cooks, dice the bean sprouts and carrots and slice the green onions. Place all in a mixing bowl.

Add the tofu into the veggie bowl and stir in the soy sauce, garlic powder, red pepper flakes and ginger.

Preheat the oven to 350 degrees.

Working one at a time, place a wonton wrapper square on your work surface and add a heaping spoonful of filling. Dip your finger into the water and trace along the edges of the wrapper. (Note: the water is what will make the wrapper stick together, so don't be stingy!)

Fold one corner of the wrapper across the filling to the opposite corner, making a triangle. Firmly press all edges to make sure they are sealed.

Move assembled wontons to a baking sheet lined with parchment paper or tin foil. Lightly brush olive oil on top of each prepared wonton.

Bake at 350 degrees for 15 – 20 minutes, until golden brown and crispy. Watch carefully so that they don't burn. Enjoy!