Check out these ideas for vegetarian camping meals before you head out on your next adventure. Whether you're looking for no-cook options or ideas to cook around the campfire, you'll find them here.
Camping is a great way to connect with nature, and for a vegan or vegetarian that can mean gaining an even greater appreciation of how their food choices are helping to protect the environment.
Numerous vegan and vegetarian foods can be enjoyed while camping, supplying the fuel needed to sustain campers for their long hikes, backpacking, trail running, paddle boarding or kayaking.
They provide the body with an abundance of vitamins, minerals, protein, fiber, and healthy fats that enhance the overall experience of outdoor recreation and companionship with friends. Many of these foods don't need refrigeration, making them ideal for vegetarian camping meals.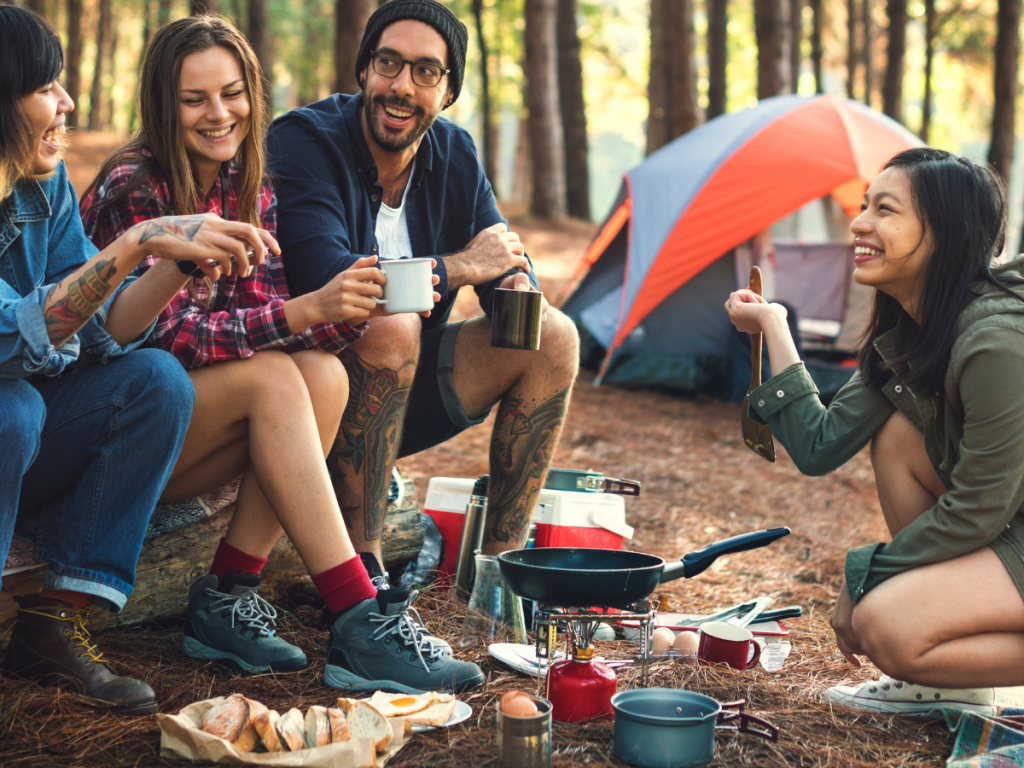 Plan your meals well before your trip, and do as much prep work at home as you can such as washing and chopping vegetables, and pre-measuring spices, seasonings and sauces. Have zip-lock bags and Tupperware containers ready to take with you.
If you're cooking at your campsite, make sure to bring a cooking oil, pot, lid, spatula, and strainer.
For backpacking you want your bag to be as light as possible, so dried fruits, quinoa flakes, powdered peanut butter, and granola bars are all good foods to take. You might be out hiking or doing an activity for a long period of time, but it is important to take breaks for meals and snacks and to drink plenty of water. 

Vegetarian Camping Meals and Snacks Without Cooking 
There are many vegan and vegetarian food options for camping that don't require any cooking.
Make overnight oats for breakfast by soaking oats in a plant-based milk such as almond or cashew milk. Top with nuts, seeds, fresh fruit, or dried fruit. Or pack some Homemade Vegan Granola for and shelf-stable plant milk alternatives for a quick bowl of cereal.
For lunch and dinner, sandwiches, wraps and baguettes are good choices. Make them with fresh vegetables and spreads such as hummus, guacamole, almond butter, peanut butter, and jam. Prepare a bean salad or potato salad before your trip to take with you.
Freeze-dried meals are great for camping. Simply add hot water to the package and seal it for a specified amount of time. The food is already cooked, so it's only a matter of rehydrating it and warming it up.
Some options for vegans and vegetarians include Pad Thai, Cuban Coconut Rice & Black Beans, and Chana Masala.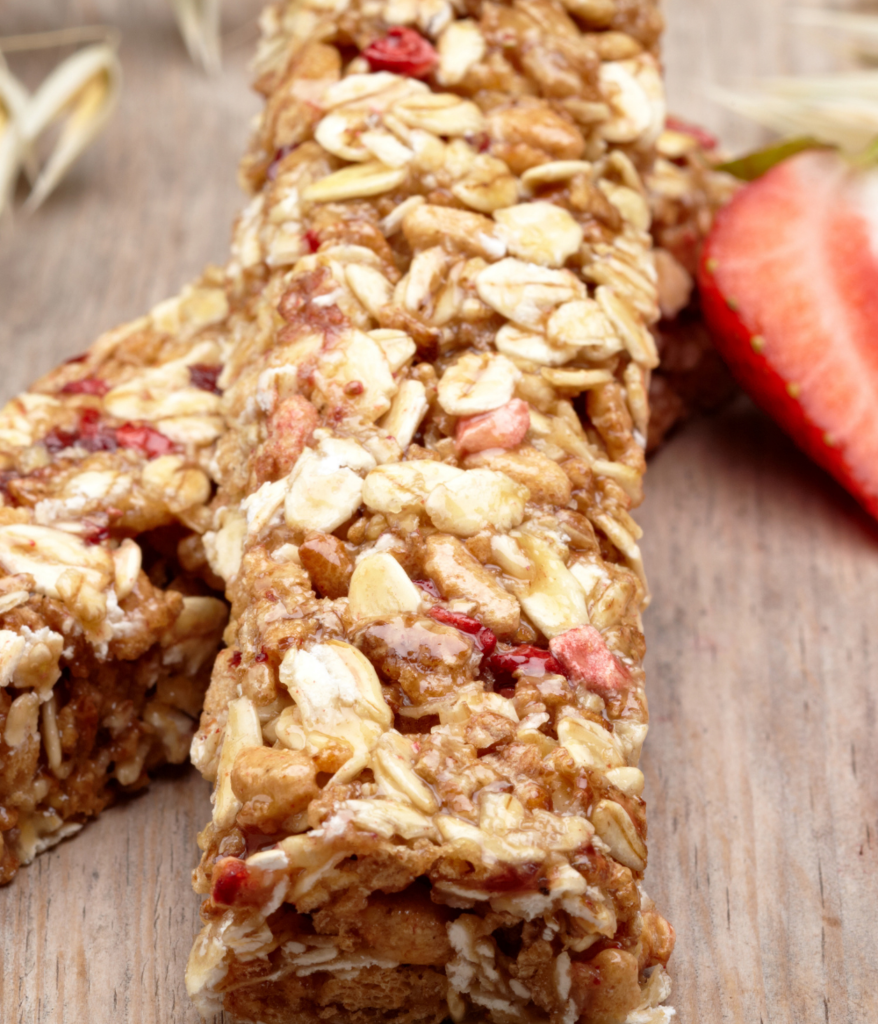 Nuts, seeds, fruits and vegetables are all simple and convenient snacks. Make your own energy balls, granola bars, or trail mix at home to take camping.
Check out this Trail Mix Bliss Balls recipe that you can make with just four ingredients: dates, cashes, pepitas, and dried cranberries. You can take a vegan or vegetarian protein powder with you and mix with water for a meal or snack.
Campfire Cooking
Veggie dogs are an excellent alternative to hot dogs for roasting over a campfire. Vegan or vegetarian kebabs are another a great choice: Thread vegetables and tofu on a skewer and grill over the fire.
Marshmallows contain gelatin, an animal protein, so they are not vegetarian. However, there are vegan brands available or you can make your own vegan marshmallows and roast them over the campfire. This vegan marshmallows recipe uses pea protein powder.
Popcorn can also be made over the campfire. For vegan popcorn, use oil such as coconut oil instead of butter.
Another great camping snack is nachos. Using a cast-iron Dutch Oven or a cast-iron skillet over the campfire, mix tortilla chips with a can of beans, avocado, tomato sauce, and vegetables.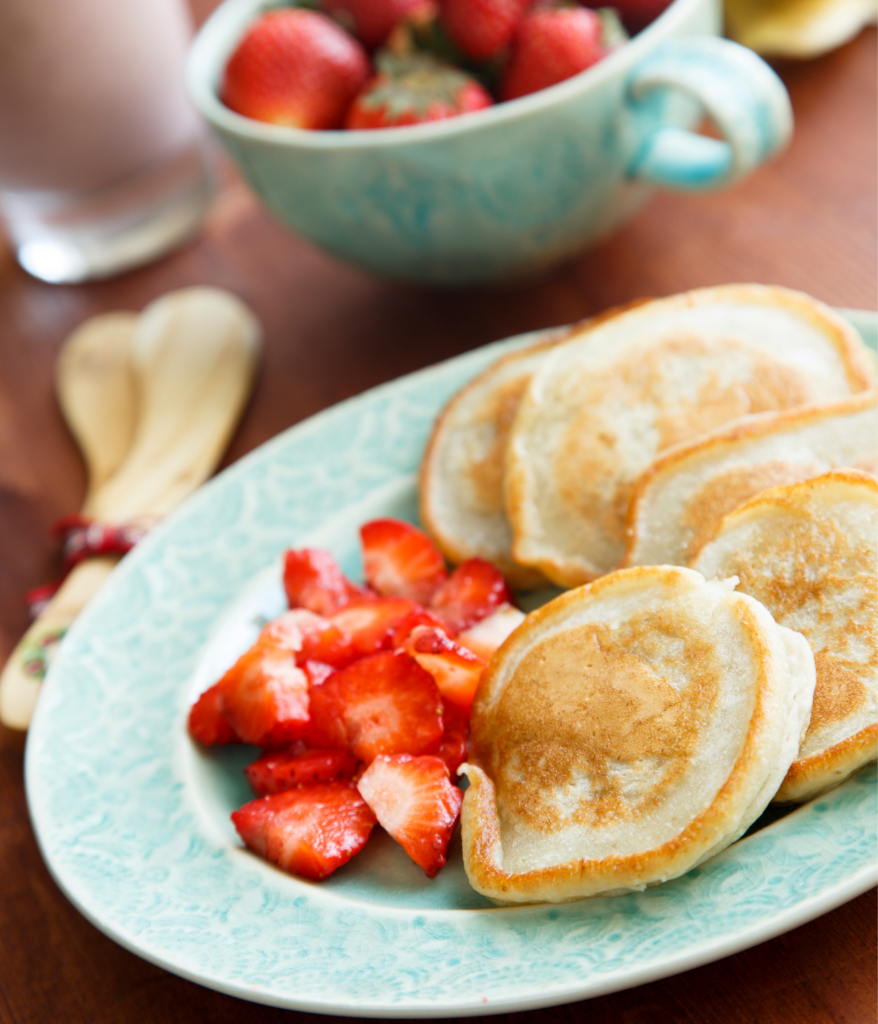 Campfire Breakfast Ideas
Make vegan pancakes over the fire for breakfast. Try this recipe that uses just three ingredients: plain flour, baking powder, and almond milk. You can save time by pre-mixing the dry ingredients at home. Options for toppings include banana slices, mixed berries, apple slices, chocolate chips, peanut butter, spinach leaves, tomatoes, and maple syrup.
For breakfast, you can also make hash browns by wrapping potatoes in aluminum foil and grilling them over the fire.
Start your day by toasting a bagel over the campfire and smearing it with vegan cream cheese.
To make tofu breakfast burritos, grill tofu in foil packets with vegetables and spices over the fire.
Add some sizzle to fruit by covering pineapples, pears, melons, nectarines, or peaches in aluminum foil with maple syrup and roasting them over the campfire.
Mushrooms, bell peppers, onions, zucchini, and carrots are all great for making vegetable foil packets. Drizzle with olive oil and lemon juice, season with your favorite spices, and roast the packets over the fire. 
Campfire Lunch & Dinner Ideas
There are numerous lunch and dinner options for vegan and vegetarian camping meals.
Grill Portobello mushrooms over the fire to make veggie burgers, or grill eggplant for an eggplant sandwich.
Grilled pineapple goes well with veggie dogs or veggie burgers.
You don't need to refrigerate wraps or tortillas, making them ideal for camping. Try a hummus wrap filled with roasted vegetables.
For those with a cooler, pack a vegan cheese such as tofu gouda to add to a wrap, sandwich, or tortilla.
If you have a camp stove, you can sauté, grill, and boil foods the same way you do at home. This vegan Mexican tortilla soup recipe is packed with protein, fiber, and flavor.
Beans and lentils are excellent sources of protein for vegetarians and vegans, and they are great for stews, soups and salads.
Dried lentils are a bit easier than dried beans for camping since they don't need to be soaked overnight and they require less cooking time. 

Take a can of chickpeas with you and roast them over the campfire for dinner. Check out this middle-eastern spiced campfire chickpeas recipe that is filled with spices such as cumin, coriander, paprika, and cinnamon.
Grilling corn-on-the-cob over the fire, using a vegan butter such as garlic butter, is a great dinner option for vegans and vegetarians.
Make vegan pizza on a campfire grill using whole wheat pizza dough and vegan mozzarella cheese.
On a cool evening, warm up with a green curry tofu cooked on a camp stove.
Cap your meal with a vegan or vegetarian dessert. In an iron-cast skillet over the fire, you can make a vegan apple crisp using apples, cinnamon, granola, and brown sugar.