Are you a cereal fan? Whether for breakfast, snack or even a quick dinner, there's nothing like a bowl of your favorite cereal. Check out this ultimate buyers' guide of all the vegan cereal options available to you so that you can feed your inner child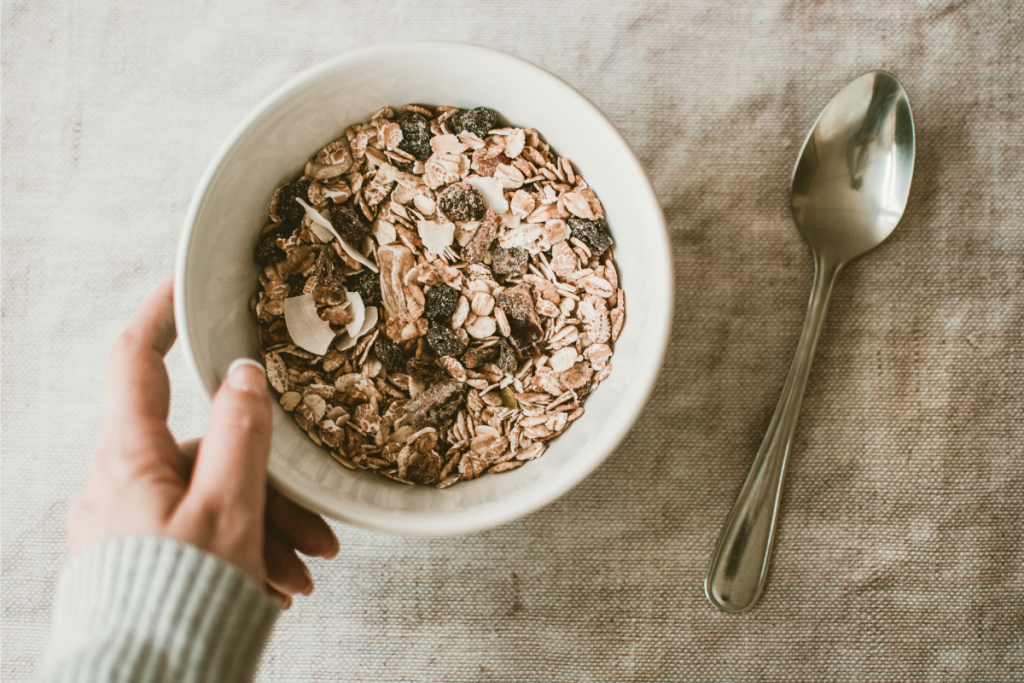 As a vegan, it's great to have a list of "go-to" foods that you know are fully vegan on hand at all times. Whether that's so you can bag up a snack for the road or just for those days when you don't feel like cooking, these basic foods will make things easier for you on a regular basis.
Cereal is one of those foods that meets all of my "go-to" criteria. It's:
easy to store
easy to eat
can be bagged up for a snack
relatively inexpensive
relatively healthy (especially compared to lots of other options)
can be eaten any time of day
kid-friendly
So, finding good vegan cereal options was a priority when we made the switch to a vegan lifestyle. I was pleasantly surprised by the large number of easily available options out there!
Let's take a look at some of those options:
The "accidental" list of vegan cereals
These are your everyday cereals. You know, the ones you loved as a kid.
What makes these cereals special is that their list of ingredients is vegan without trying. I call food items like this "accidentally vegan."
I love these options because they're a known entity. Our kids don't bat an eye at them because they're the same brands they've always known and loved.
Now, one caveat here: these "accidentally vegan" cereals are definitely not the healthiest option out there. They definitely wouldn't fit in with the "whole food, plant based" lifestyle.
But sometimes, you just want a good old bowl of comfort with cereal you've always loved. And that's okay!
#1 – Cap'n Crunch
Yep, that's right, the good 'ol cap'n is vegan!
The Cap'n Crunch vegan options include:
Original Cap'n Crunch
Cap'n Crunch's Crunch Berries
Cap'n Crunch's Peanut Butter Crunch
#2 – Kellogg's Mini Wheats Unfrosted Bite Size
Make sure you watch which box you grab because the unfrosted, bite size mini wheats are the only ones that are fully vegan.
#3 – Quaker Life Cereal
There are two options of Quaker Life that are 100% vegan. These are:
Quaker Life Original
Quaker Life Cinnamon
Mikey definitely likes that!
#4 – Quaker Puffed Wheat
This basic cereal is a tasty treat for breakfast (I'll admit to sometimes adding a spoonful of sugar to my bowl, but that's just between us!) or eaten by the handful for a quick snack.
#5 – General Mills Fiber One Cereal
Although I'm not personally a fan of this one, my husband loves to have a bowl for breakfast with some vanilla oat milk.
Best meant-to-be-vegan or consequentially-vegan cereals
The cereals on this list are from the "healthier" brands that might not necessarily have the large marketing dollars to make them name brands. However, that doesn't take away from their deliciousness!
The cereals from these brands are often made with whole grains, organic and gluten free as well.
So, although their ingredients still might keep them off of a rigid whole food, plant based diet, they're definitely a step above Cap'n Crunch in terms of a better-for-you bowl!
#1 – Nature's Path Organic Cereals
There is an endless plethora of vegan cereal options available from this well-loved brand.
Those include:
Crispy Rice Cereal
Crunchy Maple Sunrise
Crunchy Vanilla Sunrise
Flax Plus Maple Pecan Crunch
Flax Plus Pumpkin Raisin Crunch
Flax Plus Multibran Flakes (also with Cinnamon)
Fruit Juice Sweetened Corn Flakes
Love Crunch Cereal (Dark Chocolate & Red Berries and Macaroon)
Kamut Puffs
Mesa Sunrise Flakes (also with Raisins)
Millet Rice Flakes
Multigrain Flakes
Optimum Power Blueberry Cinnamon Flax Cereal
Qi'a Superfood (Apple Cinnamon, Cranberry Vanilla, and Original)
Rice Puffs
SmartBran Cereal
Whole-O's Cereal
Almond Cranberry Granola
Coconut Chia Granola
Hemp Hearts Granola
Love Crunch (Apple Crumble and Dark Chocolate & Red Berries)
Peanut Butter Granola
Pumpkin Seed + Flax Granola
Vanilla Almond + Flax Granola
There's definitely something for everyone on that list! Shop for Nature's Path Organic vegan cereals on Amazon.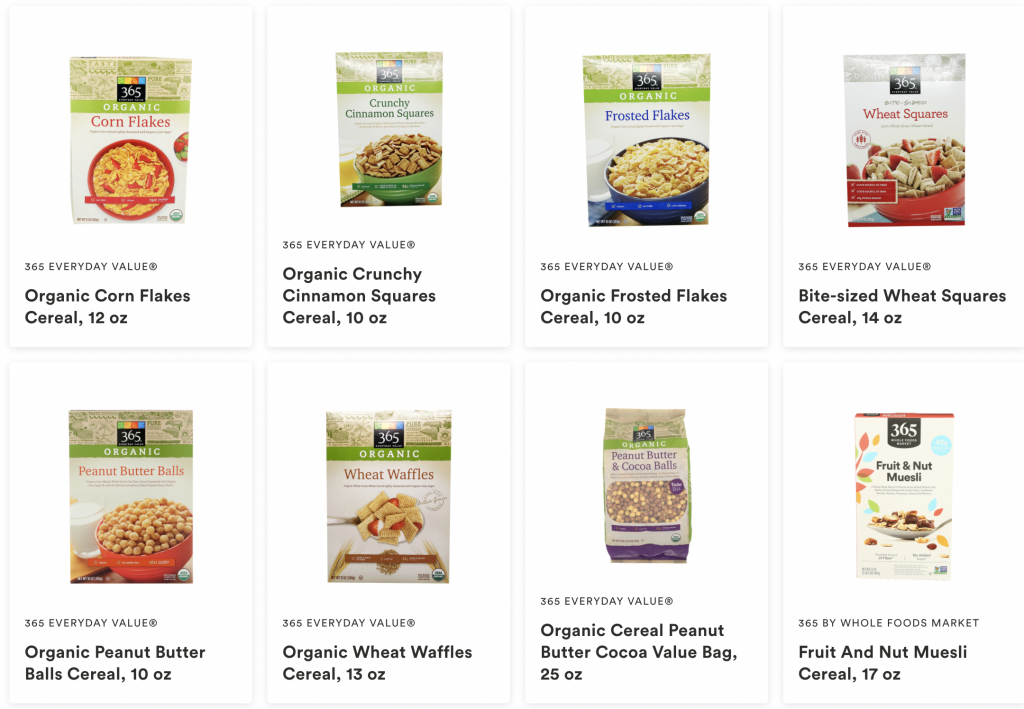 #2 – 365 Everyday Value
This brand, sold exclusively at Whole Foods, also contains a variety of tasty vegan options for you.
Organic Morning O's
Organic, Gluten Free Cocoa Rice Crisps
Organic Bran Flakes
Maple & Almond Butter Granola
Organic Corn Flakes
Organic Crunchy Cinnamon Squares
Organic Frosted Flakes
Bite-sized Wheat Squares
Organic Peanut Butter Balls
Organic Wheat Waffles
Peanut Butter & Cocoa Balls
Fruit & Nut Muesli
#3 – Barbara's Puffin Cereals
The Barbara's Cereal brand has a variety of vegan options, but we are partial to the Puffins line. The available varieties are:
Puffins Original
Puffins Peanut Butter Cereal
Puffins Cinnamon Cereal
Puffins Multigrain Cereal
Puffins Protein Berry Burst
Puffins Peanut Butter & Chocolate Cereal
Puffins Pumpkin Cereal
#4 – Cascadian Farms
This organic brand might seem a little spendy, but they are worth the little bit extra because all of their cereals taste great and they're all organic and whole grain.
The vegan cereal options from Cascadian Farms include:
Organic Cinnamon Crunch
Organic Graham Crunch
Organic Fruitful O's
#5 – Kashi
You can find several vegan options from both the regular Kashi cereal line and the Kashi GO line.
These include:
Kashi GO Cinnamon Crunch
Kashi GO Toasted Berry Crisp
Kashi GO Chocolate Crunch
Kashi GO Peanut Butter Crunch
Whole Wheat Biscuits, Island Vanilla
Whole Wheat Biscuits, Cinnamon Harvest
Whole Wheat Biscuits, Berry Fruitful
Organic Blueberry Clusters Cereal
7 Whole Grain Flakes Cereal
Cinnamon French Toast Cereal
Whole Wheat Biscuits, Autumn Wheat
Organic Strawberry Fields Cereal
Whole Wheat Biscuits, Dark Cocoa Karma
#6 – Mom's Best Cereals
This is another kid-friendly brand that usually has a lower price tag than some others on this list without losing anything in taste or quality.
The vegan cereals from Mom's Best include:
Mom's Best Cereals Safari Cocoa Crunch
Mom's Best Cereals Toasted Cinnamon Squares
Mom's Best Cereals Crispy Cocoa Rice
Mom's Best Cereals Toasted Wheatfuls
Mom's Best Cereals Raisin Bran
Mom's Best Cereals Crispy Cinnamon Rice
This is by no means an exhaustive list of all of the vegan cereal options available on the market today.
Instead, this list focuses on brands that are familiar and readily available to everyone.
Where to buy
With the exception of the 365 Everyday Value brand, which is only available at Whole Foods, you should be able to find any of the other options at your local grocery store. I've seen at least one or two varieties from these brands everywhere from big box stores to our local, rural, independent grocery store.
You can also find nearly all, if not all, of these brands on Amazon. In fact, you can even buy the 365 Everyday Value cereals on Amazon! We love this option considering our closest Whole Foods is over 3 hours away.
What to watch out for on cereal labels
Learning how to decipher labels is one of the toughest things for new vegans. There are so many animal products hidden in ingredients that you'd never guess.
Some of the ingredients you should watch out for, and avoid, are:
Gelatin
Vitamin A
Vitamin D or D3
Molasses
Vitamin B12
Honey
Dairy / Whey
If the cereal you are looking at contains any of these ingredients without being specifically labeled VEGAN, chances are it is not vegan. So, put it back on the shelf and choose one of the other many options available to you.
Some of these ingredients might have you scratching your head. I totally get it! I also felt the same way when we switched to vegan.
The short answer is, these ingredients frequently come from animal sources. (See more specifically about Vitamin D / Vitamin D3 in the FAQs below.)
I'll leave it at that for now, but will come back to this topic in the future to explain more.
FAQs
How should I serve vegan cereal?
I've yet to find a vegan-friendly "milk" that didn't work well with cereal. From coconut milk to vanilla oat milk and everything in between, pick your favorite to top your tasty bowl of cereal.
Are Kellogg's cereals vegan?
The ONLY Kellogg's cereal that is 100%, without question vegan is Mini Wheats Unfrosted Bite Size, which we mentioned on the "accidentally vegan" list above.

You might wonder why other Kellogg's cereals that "look okay" really aren't. Well, the answer isn't cut and dry and largely depends on how strict you are with your veganism. So, it's really a personal judgement call.

It comes down to this – these cereals contain sugar and vitamin D.

While those ingredients might seem benign, it's not that easy.

The process of sugar refinement uses bone char, or charred or burnt animal bones, generally those of cattle. Although that bone char doesn't end up in the sugar itself it's used to add the white color to cane sugar.

Similarly, Vitamin D / Vitamin D3  is derived from lanolin, a substance we get from sheep's wool.

There are many vegans that are not as stringent with their adherence, so they have no problem consuming either of those ingredients. (We fall into that camp the majority of the time!)

If that's you, your list of vegan cereal options expands dramatically!
Are Frosted Flakes vegan?
Yes and no. Frosted Flakes are vegan, with the exception of the sugar and Vitamin D issue mentioned above.
Can vegans eat Fruity Pebbles?
Fruity Pebbles are vegan if you're not a strict adherent to all vegan principles.

The ingredients in Fruity Pebbles that are up for debate from a vegan perspective include:

– Sugar
– Palm Kernel Oil
– Natural Flavors
– Artificial Colors
– Vitamin D

Not sure why those ingredients are questionable? Check out this Are Fruity Pebbles Vegan article.
---
Note: this post contains affiliate links. If you purchase something after clicking on one of those links, we will receive a small commission at no extra cost to you.