Who doesn't love brunch, right? Well, if you're a vegan, you might feel a little left out of the brunch game sometimes. We're ending that today with this collection vegan brunch ideas!
More and more people are turning to veganism for health, ethical, and environmental reasons. But this doesn't need to come at the expense of taste.
Plant-based meals can pack a lot of flavor, as well as health benefits. Eggs and dairy products are commonly used to make brunch dishes, but vegans have plenty of options for substitutions and replacements.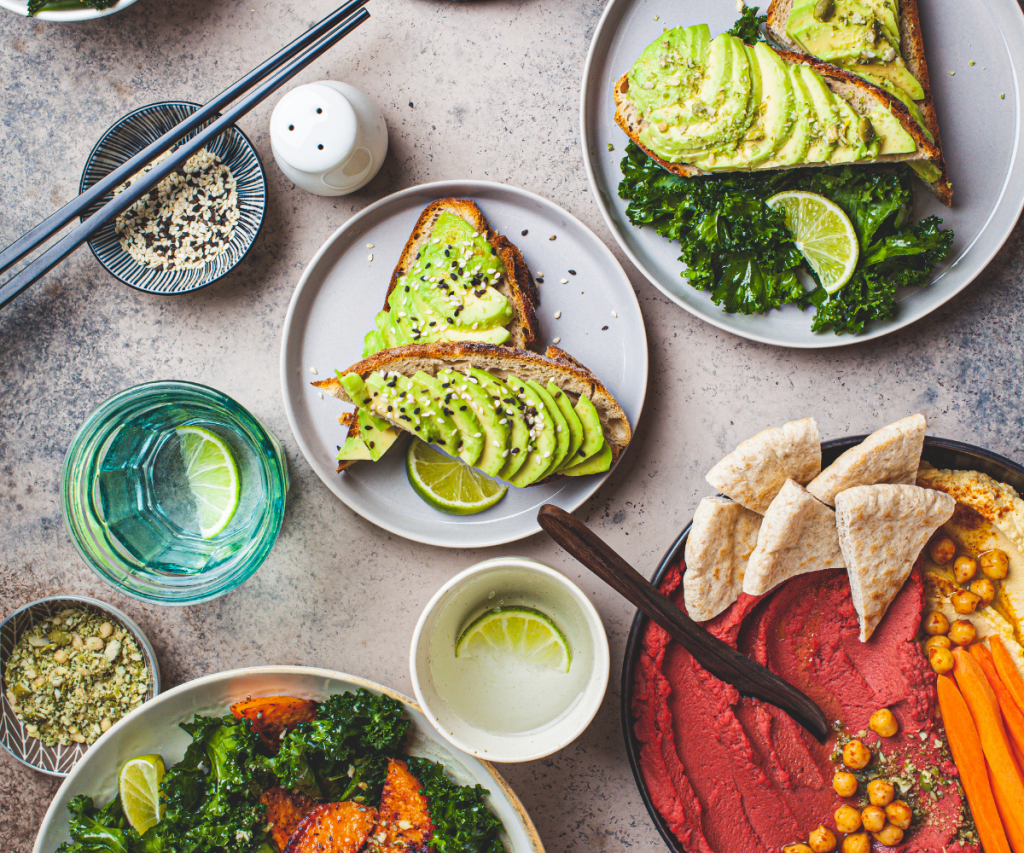 Vegan Brunch Ideas
Making a vegan brunch is a great way to try new foods and new ways of cooking.
If you are hosting a brunch, you can introduce other people to healthy dishes they may not be familiar with.
The following vegan brunch ideas contain meals with nutrient-dense ingredients that will keep you filled up:
Tofu Recipes
Tofu is a great plant-based source of protein, with about eight grams of protein per 100-gram serving. It contains all nine essential amino acids, making it a complete protein.
This tofu burrito bowl delivers a lot of nutrients. Black beans are high in protein, in addition to being an excellent source of fiber and folate. The avocado and olive oil in this recipe provide great sources of monounsaturated fat (a healthy fat) while the hash brown potatoes provide a healthy source of carbohydrates. The recipe is packed with vegetables, herbs, spices, and flavor.
Tofu is the main source of protein in this asparagus and mushroom vegan quiche. A half-cup of asparagus has only 20 calories. It is high in Vitamin K and antioxidants. Mushrooms are high in B-vitamins and potassium, and they also contain protein. The recipe includes nutritional yeast, which is often fortified with Vitamin B12 (which is important for vegans since Vitamin B12 is only found naturally in animal products).
This southwest tofu scramble is packed with antioxidants with the additions of kale and red pepper. Kale is also an excellent source of calcium. You'll warm up with a sauce that includes garlic powder, ground cumin, chili powder, and turmeric.
Quinoa Recipes
Quinoa is a whole grain, meaning the entire grain is intact (unlike refined grains in which the bran and germ are removed in processing). Low on the glycemic index, the consumption of quinoa can help to maintain healthy blood sugar levels. It is high in fiber, vitamins, and minerals, and a good source of protein. Plus, as a vegan brunch idea, it provides all kinds of fun, new options!
This berry quinoa salad contains strawberries, raspberries, blackberries, and blueberries. Berries are rich in Vitamin C, antioxidants, and fiber. The almonds in the recipe provide a good source of protein and healthy fats. Orange zest, orange juice, lemon juice, lime juice, honey, mint, and basil constitute the ingredients for the citrus honey dressing. Best of all, the recipe takes little time to prepare.
This creamy quinoa porridge is made with coconut milk, maple syrup, and cinnamon, and topped with raspberries, mango, pecans, and coconut shavings. For chocolate lovers, try this dark chocolate quinoa breakfast bowl. The ingredients include almond milk, coconut milk, cocoa powder, and vegan dark chocolate.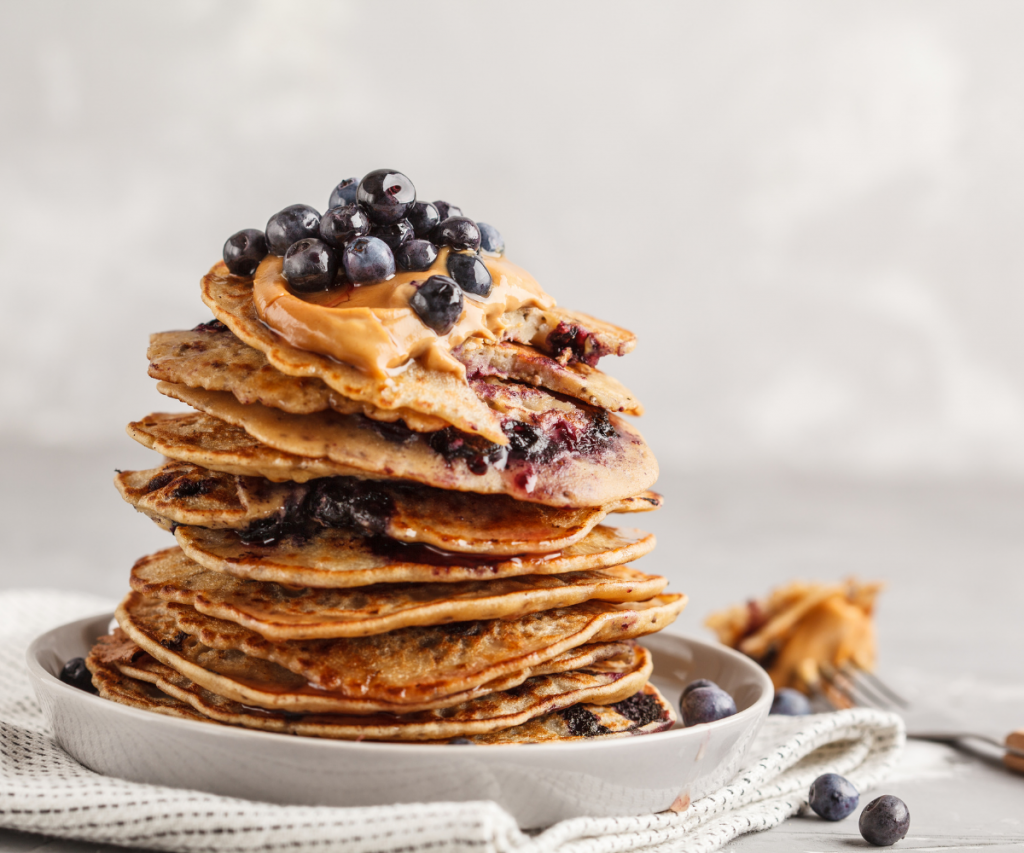 Pancake Recipes
Pancakes are a brunch-time staple, and a list of vegan brunch ideas would be incomplete with their inclusion.
Did you know that delicious pancakes can be made without eggs or dairy products?
This vegan pancakes recipe includes rolled oats. A whole grain, oats are high in protein, fiber, vitamins, and minerals. According to Healthline Media, a half-cup of dry oats contains 191% of the recommended daily intake for manganese, 41% of the RDI for phosphorus, and 39% of the RDI for thiamin.
This simple vegan gluten-free pancakes recipe contains only three ingredients: banana, oats, and oat milk. Bananas are a good source of potassium, Vitamin B6, and Vitamin C.
These hearty gluten-free vegan pancakes contain amaranth flour and brown rice flour. Both amaranth and brown rice are whole grains. A 1/4 cup of amaranth flour has about five grams of protein and four grams of fiber. Brown rice is rich in manganese, selenium, magnesium, and B-vitamins.
Omelet Recipes
Omelets are a popular brunch option, and there are many ways to make them using only plant-based ingredients.
The batter for this vegan omelet includes tofu, nutritional yeast, brown rice flour, and soy milk. Ingredients for the filling include vegan butter, mushrooms, and spinach. High in vitamins and minerals, spinach contains only about 20 calories per 100-gram serving.
This chickpea omelet is made with chickpea flour. It is a gluten-free, soy-free, and nut-free vegan recipe. A cup of chickpea flour delivers about 20 grams of protein.
This vegan omelet is made using red lentil flour, which is a great source of protein, fiber, folate, and magnesium.
Toast Recipes
This avocado toast is made with whole-grain bread, parsley, olive oil, lemon juice, onion powder, garlic powder, salt, and pepper. It only takes 10 minutes to prepare four servings.
This vegan French toast is made with ground flaxseed and plant-based milk. High in fiber, flaxseed is an excellent source of omega-3 fatty acids. These polyunsaturated fats can reduce inflammation in the body and lower the risk of heart disease.
Vegans have plenty of options for making a healthy toast for brunch. Spread options include guacamole, almond butter, cashew butter, peanut butter, hummus, jam, and jelly. Options for toppings include pumpkin seeds, sunflower seeds, almonds, walnuts, chives, sprouts, basil, and cilantro.
Casserole Recipes
This hash brown vegan breakfast casserole is oil-free. Ingredients for the creamy cheese sauce include potatoes, carrots, onions, vegetable broth, cashews, and lemon juice.
This vegan breakfast casserole contains chickpea flour and plant-based milk. Baking powder, apple cider vinegar, and salt is also used to make the base.
This vegan casserole, made with tofu and brown rice flour, is packed with vegetables such as onion, mushrooms, zucchini, red pepper, and spinach. Adding vegetables of a variety of colors to a brunch casserole is an easy way to increase your vegetable consumption.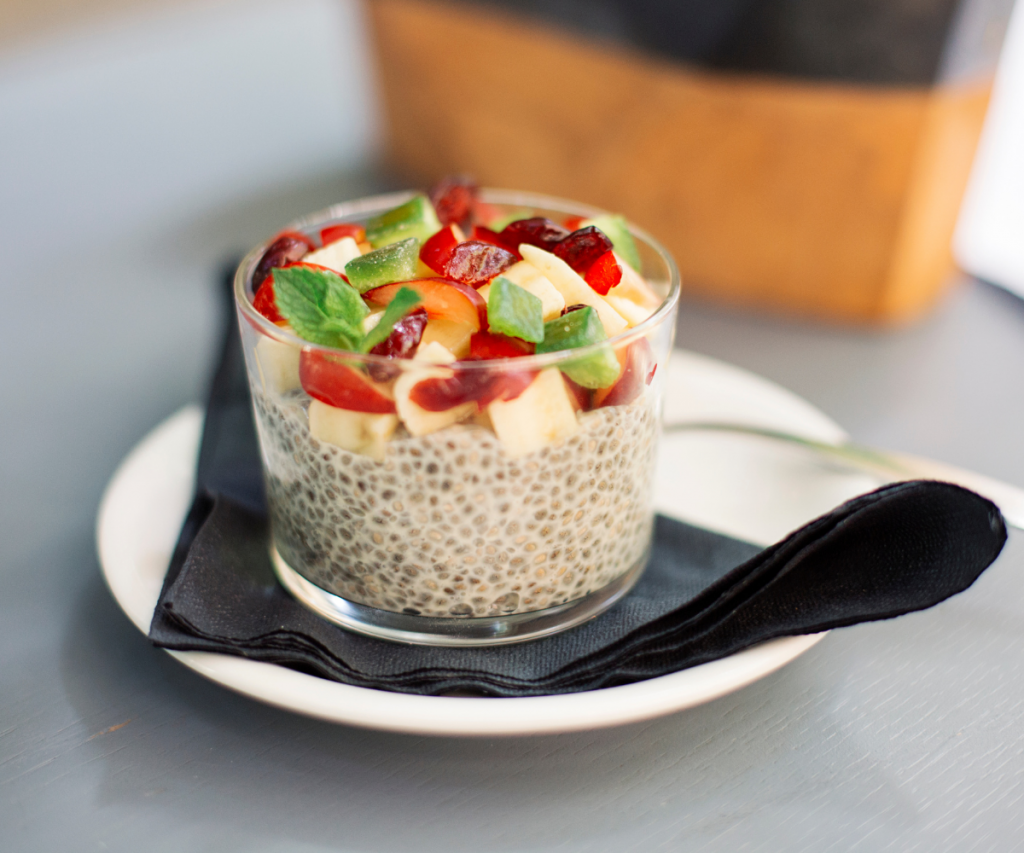 Chia Seed Pudding
A bowl of chia seed pudding is a great dessert to cap a hearty brunch.
You can use store-bought almond milk for this gourmet chia seed pudding, but the directions for the recipe explain how to make your own almond milk. Plant-based milk such as almond milk and coconut milk is a great replacement for dairy milk. A good source of protein, chia seeds are high in omega-3 fatty acids.
Other Recipe Ideas
Here are a few other recipes you can add to your vegan brunch ideas list: