Jump to Recipe
I love this recipe for Vegan Minestrone Soup because it's quick, easy, customizable, and so delicious!
I (Kate) have been a soup lover for as long as I can remember. It is by far my go-to comfort food. The vegan lifestyle is a great fit for all of my fellow soup-loving friends! The options are nearly limitless and I've yet to come across a soup that couldn't be "veganized" in one way or another.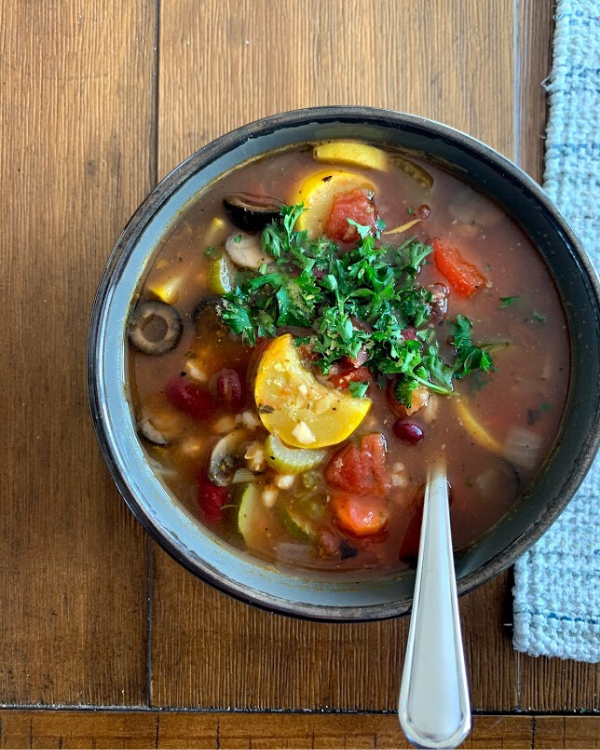 Vegan Lunch Ideas
I am a full-time digital marketing freelancer. Eric is a stay-at-home dad and my tech guy. That means that we are both home all day. That also means we both eat breakfast, lunch and dinner at home every day.
Since we made the switch to living a vegan lifestyle and eating a whole food, plant based vegan diet, our lunch routine has become very important to us.
Honestly, this has been one of the major keys of Eric's health improvements. His lunch used to consist of a bologna sandwich, potato chips and some cookies. (Yuck – just typing that out now makes me shudder!) Losing his lunch routine was one of his biggest concerns.
So, I took that on as a challenge and decided we'd make lunch an occasion. Since I'd always tended toward healthier lunch options to begin with, it just made sense that I'd plan and make lunches for both of us going foward.
One of the first ideas I implemented was to make a large pot of soup during my weekend meal prep sessions. The goal here is to give us both lunch for at least 3 days of the week. It has worked out perfectly! We now start each week knowing that lunch on Monday, Tuesday and Wednesday is going to be a big bowl of hearty, healthy soup. A couple of the kids have even started to get in on the soupy goodness by taking a thermos full for lunch occassionally.
We round out the rest of the week with these options:
Hummus and veggie wraps
Power bowls
Leftovers from dinner
Chickpea salad + pitas
Big salads
The Vegan Minestrone Soup that I'm sharing in this post is one of our absolute favorites. We like to add some home-baked pita chips on the side. If either of us are really hungry, we'll also grab an orange or some grapes.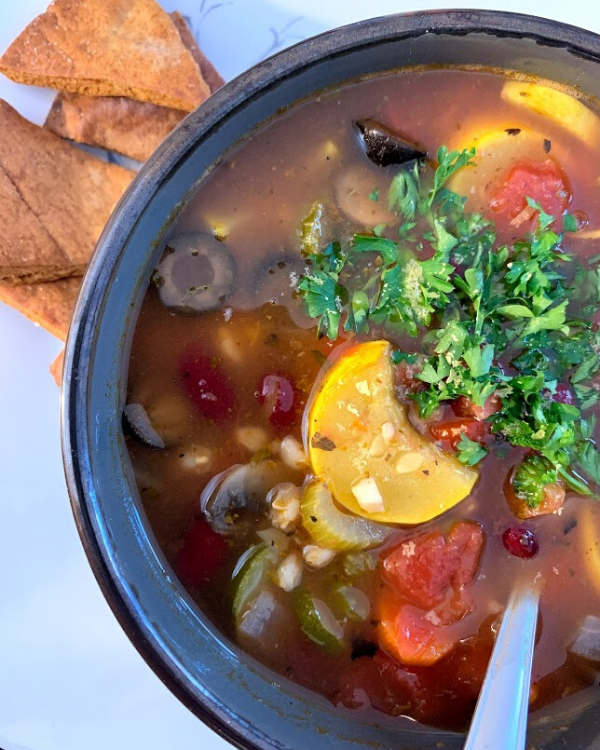 How to Make Vegan Minestrone Soup
Minestrone Soup is really easy to make naturally vegan, especially depending on what recipe you use. Many Minestrone recipes will call for chicken stock or beef stock and Parmesan cheese. The stock can be replaced with vegetable stock and nutritional yeast is the perfect Parm substitute.
After that, there is all kinds of room to have fun and experiment with your minestrone! This recipe includes lots of traditional minestrone flavors plus some of our favorite additions. Leave out what you don't like and toss in other options that you love.
Our basic vegan minestrone soup recipe starts with lots and lots of veggies – onion, red pepper, celery, carrots, garlic, zucchini, yellow squash, mushrooms, and canned tomatoes. I like to add both sliced black olives and capers to give the soup a traditional taste. Then we add the traditional kidney beans for a nice protein boost. You can absolutely use whole wheat pasta in this soup, but we really love using Farro instead. We like the chewy bite, the way the grain absorbs the flavors, and the additional protein kick. Then we add in lots of delicious herbs and spices and basically create heaven in a bowl!
To make vegan minestrone soup, heat a little olive oil in a large pot and add diced onions, red pepper, celery, carrots and garlic. Season with salt and red chili pepper flakes and cook for 3 to 5 minutes. Then added in the diced squashes and mushrooms and continue cooking for about 5 minutes, until the mushrooms are browned.
After that, move on to adding in all of your canned goods including: two cans of diced tomatoes (I used fire-roasted diced tomatoes + stewed tomatoes in this version. Use whichever cut and style you prefer.), sliced black olives and capers. Next I'll add a teaspoon or two of vegetable stock base and about 6 to 8 cups of water, depending on how big the pot I'm using is. Then I season with oregano, basil, thyme, a bit more salt, and black pepper.
Next bring the pot to a slow boil and stir in some farro. Let simmer until the farro is fully cooked, about 25 – 30 minutes.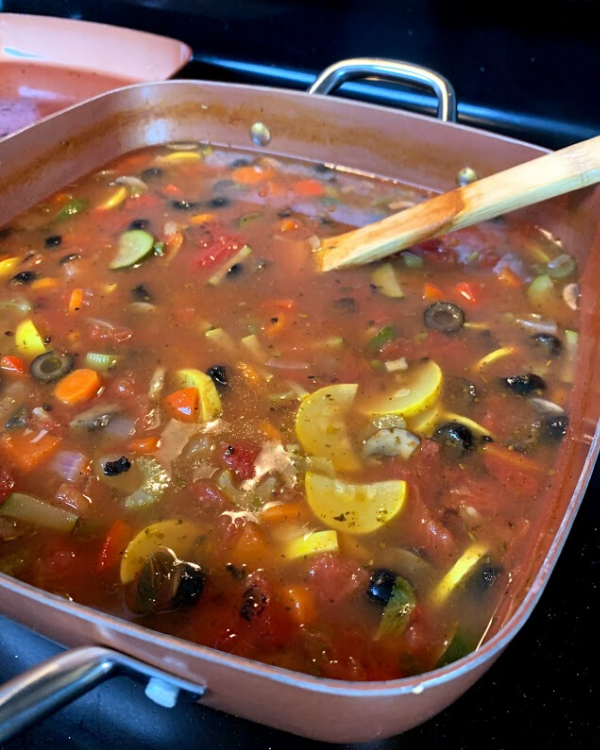 Once the soup is finished, I let it cool for about an hour on the stovetop until I move it to the refrigerator.
I portion out and warm up bowls of soup when we're ready for lunch each day. I like to top our bowls with fresh parsley, some freshly ground black pepper and a hearty sprinkle of nutritional yeast.
Our kids love this soup in their lunches. If you work outside of the house and need some lunch ideas, this is a winner. You'll be able to get a whole week of office lunches out of this recipe. You can warm at home and take it in a thermos, or keep in the office fridge and then warm it when you're ready to eat.
I hope you'll love this vegan minestrone soup recipe! It's:
Quick and easy to make
Customizable
Full of flavors
Hearty
Nutritious
& Delicious
Vegan Minestrone Soup
A delicious Vegan Minestrone Soup recipe that's packed with flavors and protein.
Ingredients
1

Red Onion

4

stalks

Celery

4

Carrots

1

Red Bell Pepper

5

cloves

Garlic

1

tbsp

Olive Oil

1

tsp

Salt

1/2

tsp

Red Pepper Flakes

1

small

Zucchini

1

small

Yellow Squash

6

Mushrooms

2

cans

Diced Tomatoes

1

can

Sliced Black Olives

3

tbsp

Capers

1

can

Kidney Beans

(drained and rinsed)

1

tsp

Vegetable Stock Base

(optional)

6 – 8

cups

Water

(depending on the size of your pot)

1/2

cup

Farro

(uncooked)

1

tsp

Oregano

1

tsp

Basil

1

tsp

Ground Black Pepper

1/2

tsp

Salt

1/2

tsp

Paprika

1/2

tsp

Thyme

Fresh Parsley

(optional)

Nutritional Yeast

(optional)
Instructions
Dice onion, celery, carrots, bell pepper and garlic.

Heat olive oil in a large soup/stock pot over medium heat. Add onion, celery, carrots, bell pepper and garlic. Season with salt and red pepper flakes. Cook for 3 minutes.

Meanwhile, slice zucchini, yellow squash and mushrooms. Add to pot and continue cooking over medium heat for about 5 minutes, until mushrooms are browned and onions are translucent.

Stir in diced tomatoes, olives, capers, kidney beans, vegetable stock base (optional), and water. Increase heat and bring to a slow boil.

Stir in farro and seasonings, except optional parsley and nutritional yeast. Reduce heat to medium-low and simmer until farro is fully cooked, about 25 to 30 minutes.

To serve, sprinkle individual bowls with fresh parsley, nutritional yeast and some freshly ground black pepper, if desired.