Find out everything you ever wanted to know about Vegan Matcha Ice Cream, including where to buy it and recipes so that you can whip some up for yourself.
Utterly delicious and rich with a green that mimics the sweet earthy depth of the tea, Matcha is a wonderful ingredient that has a soft finish of sweetness and a burst of umami.
This lovely green tea is not only tasty, it is full of antioxidants and has been a part of traditional Japanese tea ceremonies for centuries. It is not surprising then that the best Matcha is said to be originated from Japan.
Rather than the traditional method of drying the leaves before serving, Matcha is actually ground green leaves and it is that method of preparation that gives Matcha its unique green color.
In comparison to other teas, Matcha may be pricier because of the time and care that is put into the process; the highest grade of Matcha is made from the youngest, smallest leaves that are hand picked and then hand ground using wheels made of granite. The process is so laborious, it takes an entire hour to ground a total of 30 grams!
To prepare a cup of tea is also a little different from what we are regularly familiar with.
The Matcha needs to be prepared in a bowl with a bamboo whisk, chasen, a nifty traditional tool that keeps the powder from clumping in the water and in addition to keeping away unwanted clumps, the act of whisking creates a lovely Matcha foam at the top.
However, you do not need to purchase a specific tea bowl or a chasen to be able to enjoy a cup of Matcha! You can use any bowl at hand and instead of diving right into investing in a bamboo whisk, a blender, fork, spoon or even a milk frother would work wonderfully!
Matcha is not only limited for drinking, it can be made into amazing desserts such as Matcha blondies and cakes but more importantly, ice cream.
What is Vegan Matcha Ice Cream?
Oh boy, the mix of sweet vanilla swirled with the lush nutty Matcha creates a really dreamy partnership. Now imagine that with coconut in the backdrop.
That's right, vegan Matcha ice cream is no longer only a dream, it is now a reality.
Similar to other vegan ice creams, most vegan Matcha ice cream start with a base of either coconut milk/cream, oat milk or even nut milks such as almond or cashew.
The milk of choice can effect the texture of the ice cream as well as the overall taste outcome. The most common choice many chefs use is either coconut milk or cream because of the complementary flavor and texture it gives to the ice cream.
While looking for the best vegan Matcha ice cream, take care to look into how much sugar is present because the sweetness of sugar can mask the natural earthy characteristic of Matcha.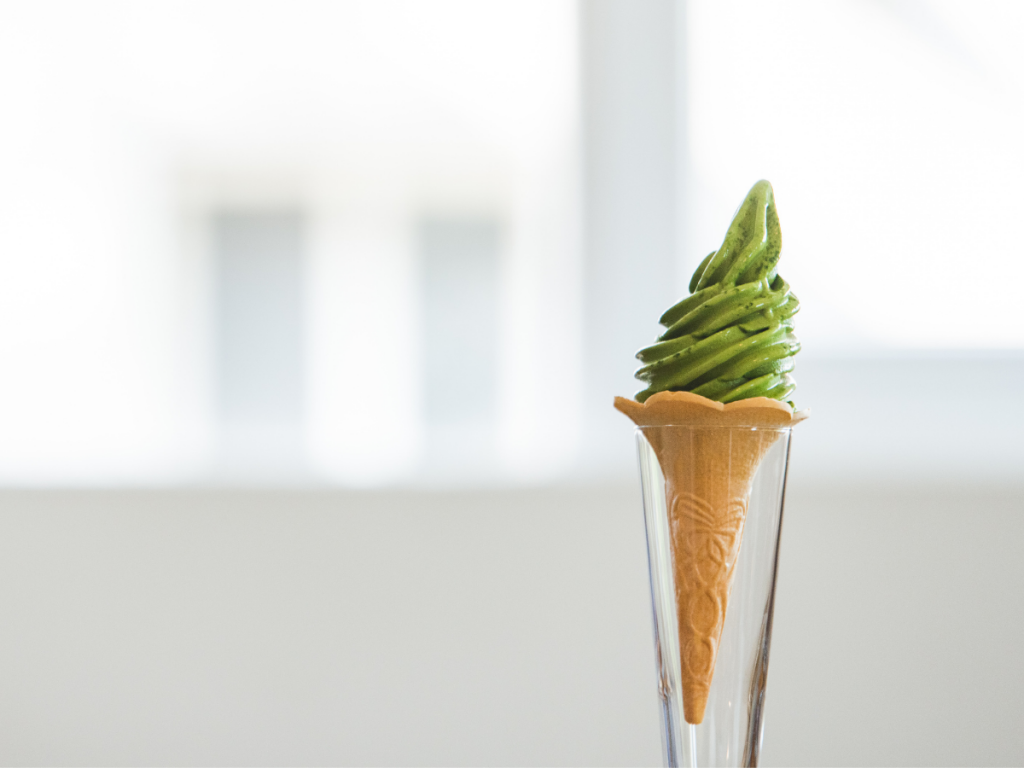 Unfortunately not too many manufacturers are creating vegan Matcha ice cream. Thankfully there are many small shops in local areas that make small batches.
If there are not any near your area, do not worry! It might even be more simple to try out some of the recipes below to make your own.
Where to Buy
Shops
Van Leeuwen: Vegan Planet Earth
Not strictly a Matcha only ice cream, Van Leeuwen has created an almond ice cream with chunks of Matcha cake mixed right in! These pints are available for purchase online and in select stores such as Whole Foods and Sprouts. If you are in either New York, New Jersey or California, feel free to pop into one of their scoop shops!
For those who have a nut allergy, give Cocobella Cremery a try. Their Matcha Monsta ice cream is made with oat milk and their version of vegan Matcha ice cream includes Adzuki beans, a very common ingredient found in Japanese cuisine.
Yoga-Urt: Soft Serve Vegan Matcha Ice Cream
There is not a lot of soft serve that offer vegan options but this shop offers soft serve vegan Matcha ice cream in dairy-free waffle cones! They also have pints for sale at the store but do make sure to call ahead to time to make sure they are serving Matcha that day because they only have 6 flavors at a time.
Vegan Matcha Ice Cream Recipes
Minimalist Baker created a vegan Matcha ice cream that can also be made gluten free as well as refined sugar free! The sugar from this recipe comes from dates and honey rather than white sugar.
Love and Lemons: Matcha Green Tea Ice Cream
It is very likely that you will have all the ingredients to this recipe right in your cupboard! Don't have xanthan gum? Have no fear, here they use vodka and lemon to help with the texture.
No Churn Vegan Matcha Avocado Ice Cream
Not everyone has access to an ice cream churner and that is okay! This recipe uses a food processer to mix everything. What's extra special about this is that there is the use of avocados to create another layer of creaminess.
Blender Matcha Green Tea Ice Cream
Not a fan of coconut? No problem! This recipe uses nut milk instead. In addition to that, this is a one blender recipe that takes approximately 10 minutes to make.
Coconut Vegan Match Ice Cream with Black Sesame Brittle
If you really want to get fancy, try out this recipe! Sarah incorporates delicious bits of crunchy black sesame brittle into her ice cream to elevate it to another level.
Vegan Matcha ice cream can be enjoyed on its own or like so many other flavors of ice cream, feel free to put whatever toppings you want on top!
Shaved or toasted coconut would be a great addition or in some Japanese ice cream shops, they like serving their ice cream with mochi or fresh seasonal fruit.
Another tasty idea is to sprinkle some Homemade Vegan Granola on top.
You can even sandwich the ice cream between two cookies and make an ice cream sandwich in less than 5 minutes.
However you wish to enjoy your ice cream is limited only to your imagination!