Jump to Recipe
These vegan Raw Peanut Butter Cookies are a fantastic way to satisfy your sweet tooth!
I've always loved to have a little something sweet with a cup of coffee in the afternoon before the kids get home from school. Since I work from home, this is also usually the time of day when I'm trying to finish up an important project or urgent task. So a little pick-me-up is a welcomed treat and these Raw Peanut Butter Cookies definitely fit the bill.
As much as Eric and I love them, I think the kids love them even more. Especially our 14 year old. She's been my helper in the kitchen since she was old enough to stand at the counter with me. And now she's taken to making these cookies at least once a week like it's her job! The cookies themselves are so simple to make that our 9 year old could make them if she wanted to as well.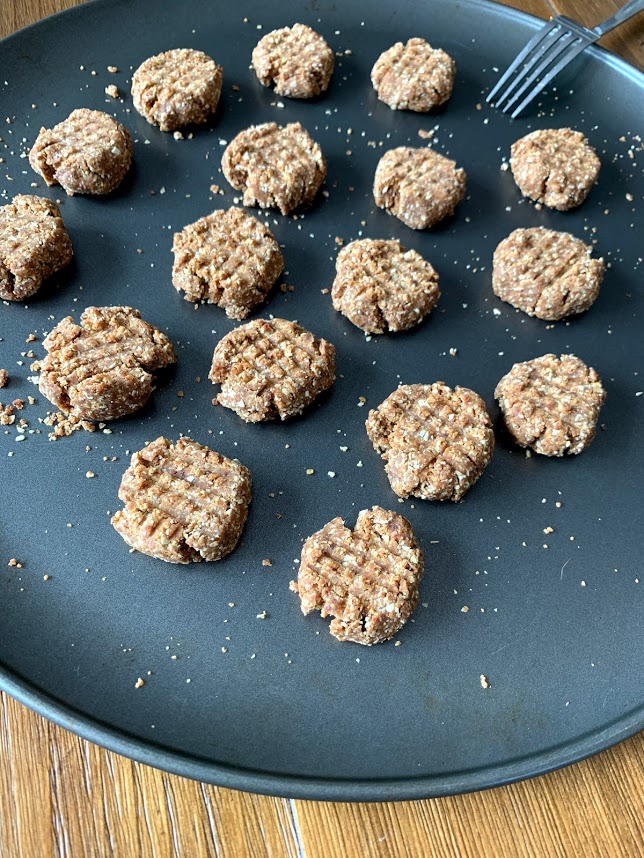 Although the texture is very different, we all agree that Raw Peanut Butter Cookies taste just like traditional no-bake cookies.
Another major bonus, at least in my book, is that the cookies stay good and taste just as delicious for up to a week in fridge…if they last that long!
Raw Peanut Butter Cookies are fully vegan, packed with protein and naturally sweetened.
How to make vegan Raw Peanut Butter Cookies
It honestly doesn't get much easier than these cookies!
They require just 4 ingredients – dates, oats, peanut butter and vanilla. (Plus potentially a splash or two of water.)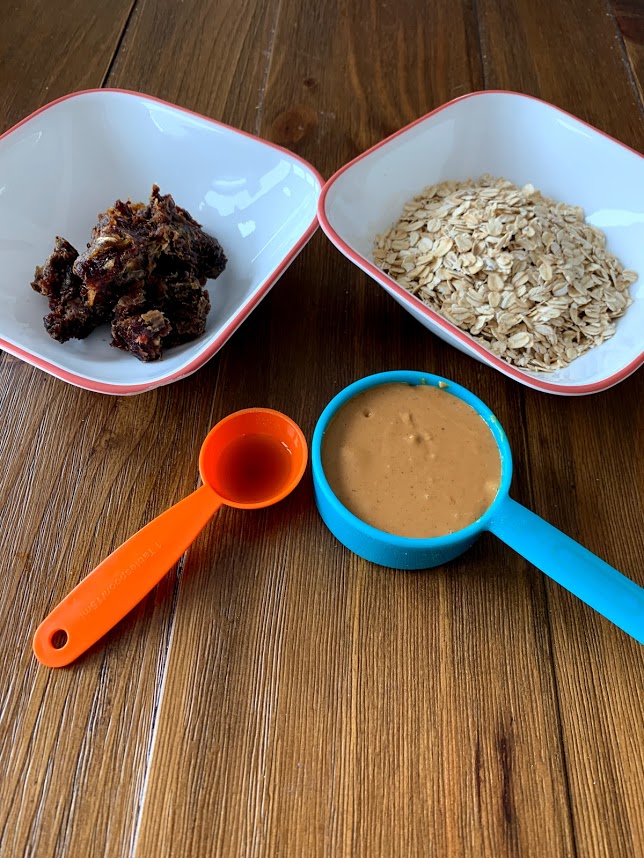 If you have to be whole dates, you'll start this recipe by chopping them up a bit either in a food processor/blender or with a knife. We're very fortunate that our local grocery store sells pre-processed (aka "macerated") fresh dates in the produce department.
And when I say very fortunate, I truly mean that. We live in a SMALL, remote town with only one grocery store. Both our closest stoplight AND our closest big box store are 50 miles away. We'd have to drive over 4 hours to get to a Whole Foods, Trader Joe's, or other similar grocery store. So yes, we are very fortunate indeed when our small grocery store carries anything that makes our whole food, plant based vegan lifestyle easier!
Anyhow…back to the reason why you're here. Cookies!
After you've processed the dates, the next step is to grind the old-fashioned oats (do not use steel cut or quick oats) into an oat flour. You may be able to do this in a blender, but I definitely recommend using a food processor. You'll process the oats until they become a fine flour consistency, like so –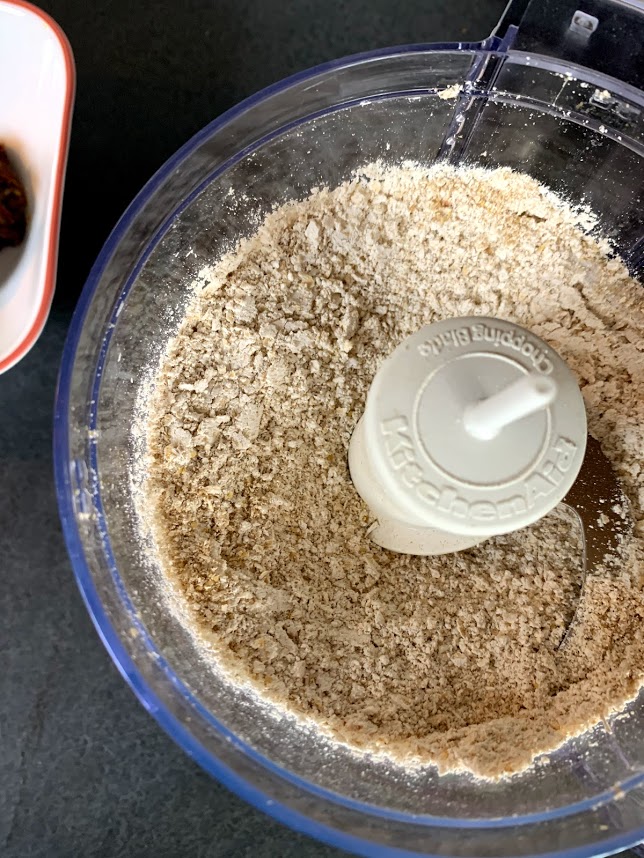 Next, you'll combine the oat flour, dates, peanut butter and vanilla and process. Again, you can do this in a blender, but I definitely recommend using a food processor. We do not have a large food processor, but we're able to make this full recipe in our mini food processor without any problems.
Process all of the ingredients together until they look almost like crushed pretzels, like so –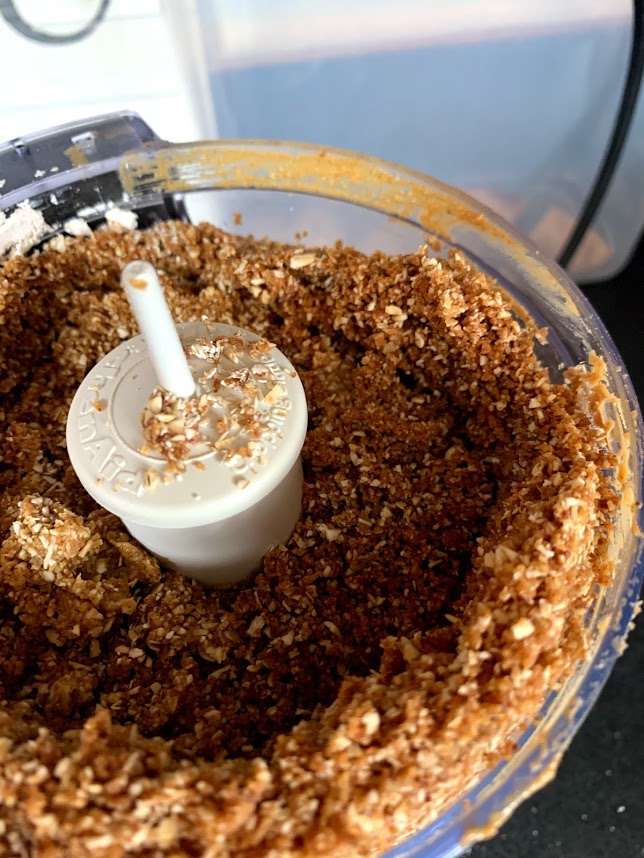 Then, using a cookie scooper and your hands, press and roll the dough into equal-sized balls. If you're dough is a little dry and crumbly, add a splash or two of water to help it hold together.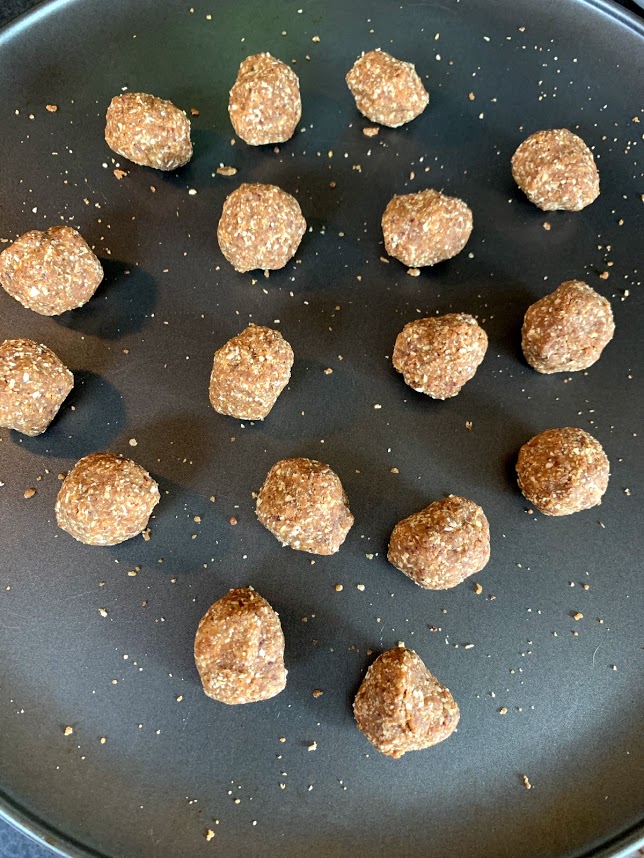 After that, use the tines of a fork to press down the cookies while making a crosshatch pattern on the top, just like you would with traditional peanut butter cookies.
Store the cookies in the fridge and grab one whenever you need a sweet treat!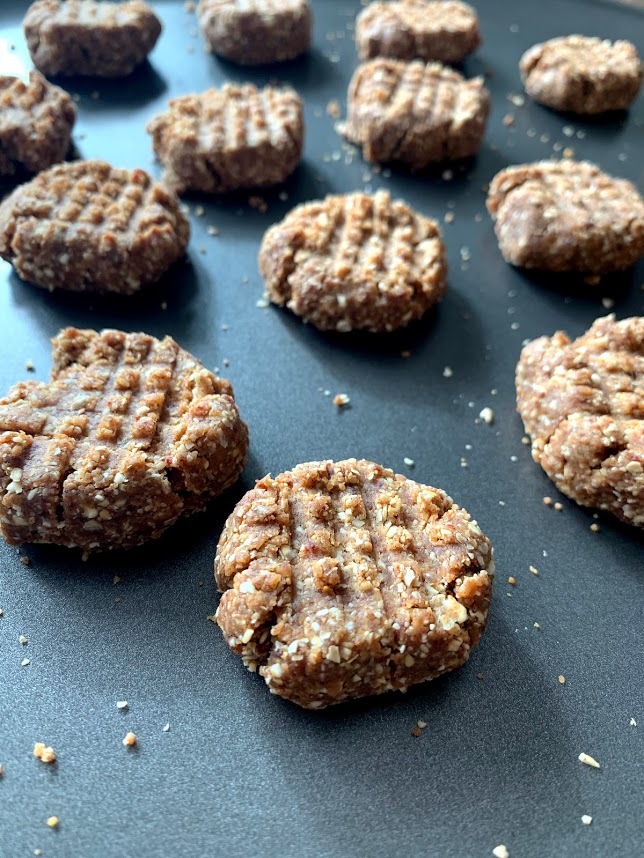 If you want to mix things up a bit, you can also make these cookies with almond flour instead of the oats. The texture will be a bit smoother and they'll lose a bit of the traditional no-bake cookie flavor, but they're still delicious.
I hope you'll love these vegan Raw Peanut Butter Cookies. They are:
Quick and easy
Naturally sweetened
Protein packed
Low on ingredients
Kid friendly
& Delicious
Raw Peanut Butter Cookies
Recipe for vegan Raw Peanut Butter Cookies, the perfect naturally-sweetened treat.
Ingredients
1

cup

Dates

(macerated or roughly chopped)

3/4

cup

Old-fashioned oats

1/2

cup

Natural peanut butter

1

tsp

Vanilla
Instructions
If using whole dates, roughly chop or process for 30 seconds in a food processor and set aside.

Grind oats in a food processor for about 30 to 45 seconds, until a fine flour is formed.

Add dates, peanut butter and vanilla to the food processor and process for 45 to 60 seconds. The dough should look a bit like crushed pretzels and it should stick together when pressed.

Using a cookie scoop and your hands, press and roll the dough into equally sized balls. If the dough is too dry/crumbly and not sticking together, add a splash or two of water.

Gently press the cookies flat with the tines of a fork while simultaneously creating a crosshatch pattern.

Store in the refrigerator for up to 1 week. Enjoy!
---